Our Favorite 2019 Gifts for People with Vision Loss from Age-Related Macular Degeneration
A couple of years ago we wrote our 2017 AMDF Gift Guide, and that blog post still gets hundreds of visitors per month. We were delighted that so many people have an interest in thoughtful and useful gifts for their loved ones with AMD vision loss!
Vision loss can negatively affect many areas of a person's life – independence, mood, isolation/loneliness, and even cognitive decline. But these are not guarantees. With adaptation and the right supports, people can continue to thrive despite vision loss from age-related macular degeneration.
The gifts selected here honor the unique needs of people with AMD while being fun, innovative, unique, and inspiring.
Gifts to Keep the Brain Sharp
Vision loss due to macular degeneration is linked to cognitive decline. In general, it's a good idea to keep exercising the brain as we age. According to Harvard Health, aside from getting good sleep and eating well (Mediterranean diet), activities that stave off cognitive decline include exercise, brain stimulating activities such as games, playing music, reading and writing, and social connections and interactions. Here are a few fun gift ideas that will tickle the brain and help keep you or your loved one sharp!
Exercise Classes 
Whether a membership to a local class, a personal trainer, or in-home DVDs, this gift will encourage your loved one to keep moving. We recommend Tai Chi because it combines relaxation and focus through movement, it's low-impact, is shown to help with balance, and can be done by anyone at any fitness level. Tai Chi can even be done sitting down!
Why we love it – it's a creative gift that you can renew each year.
Where to get it – Look for local classes and teachers, or get DVDs through Amazon. Here's one we like, but there are many. Just search for "Tai Chi for beginners" or "Tai Chi for seniors".
Low Vision Playing Cards
A great stocking stuffer that makes it easier for the visually impaired to pull out the cards for a fun game when company is over.  
Why we love it – These large print, high contrast cards are easier to read for those with central vision loss. Not to mention the potential social benefits.
Where to get it – on Amazon
Other ideas – large print crosswords or Sodoku are often available in large print versions. See our 2017 Gift Guide for more ideas.
Surprising and Thoughtful Gifts
There are so many little frustrations throughout the day when you live with central vision loss. Many are things people with full sight don't think about.
EZ Outlet Covers
We once heard from a woman with macular degeneration that one of the surprising little frustrations of vision loss was how difficult it is to see to plug things into outlets. EZ Outlet covers are designed to guide the plug into the socket without being able to see it.
Why we love it – It's the little things that can make a big difference!
Where to get it – at MaxiAids (check out their other great products for the visually impaired) or Amazon (did you know if you shop through Amazon Smile they will donate a portion of the profit to a charitable organization of your choice?).
A Pedicure!
Central vision loss along with other issues of aging can make it difficult to do something as simple as trimming your toenails. A gift of a professional pedicure (for both women AND men) will not only pamper your loved one, but will also ease a frustration most people don't think about.
Why we love it – this gift will delight on so many levels, and even better if you join them!
Where to get it – find a local nail salon or spa. Check reviews, and call ahead to see if they happen to offer special services to seniors. While you're at it, ask if they offer any discounts if you pre-pay for 6 months or a year's worth of pedicures.
Other ideas – Lighted and magnified mirrors for shaving and makeup application, and a magnifying toenail clipper.
Macular Degeneration Memoir
Twilight – Losing Sight, Gaining Insight by Henry Grunwald is one of the few memoirs on the market that is specific to losing sight from age-related macular degeneration. The New York Times Book Review described it as, "Splendid. . . . Grunwald weds a graceful, economic prose to a lucid vision of his changed world—exactly what we would expect from such a distinguished journalist—and produces a lovely book. In losing his sight, he has reached for light."
Why we love it – While we haven't read it yet (we just discovered it while researching for this post!), we love any resource that helps people feel less alone with their experience of vision loss.
Where to get it – You can find it on Amazon here.
Gifts of Service 
You may be a primary caregiver and already offer your help on a regular basis, but planning out gifts of service can really change the dynamic in a positive way. Done well it can offer clearer boundaries for the caregiver, and relieve your loved one of always having to ask.
If you're NOT a primary caregiver, this gift is not only great for the person with AMD, but also relieves some of the burden for the primary caregiver.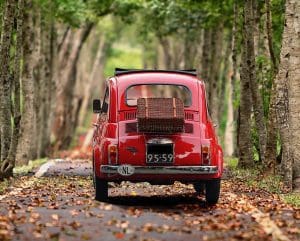 Rides
Once a person with AMD vision loss is no longer able to drive, their independence is greatly reduced. Additionally, lack of access to transportation can affect treatment options. 
Depending on where you and your loved one lives, and your budget, there are many creative ways to offer rides. On the higher end, you can gift Uber or Lyft rides. Many areas offer various senior or other volunteer services for rides, and if your loved one isn't already taking advantage of these it might be because they don't know they exist, or are too proud to do the research. You can help them out by doing the research and getting things set up for them.
If you're able to offer rides yourself, a coupon book is a great way to keep things manageable for you and your loved one. You can decide up front how many rides per month you can offer, what times are good for you, and parameters for "redeeming" the coupon (for example, how much advance notice do you need?). Your AMD loved one will appreciate the shift from feeling like a burden to receiving a loving and useful gift that's been planned out so they don't need to worry that it's inconvenient.
Why we love it –Losing the ability to drive deeply affects people with vision loss due to AMD and is one of the losses we most often hear about from the AMD community. And we know that caregivers can get burned out. Expanding ways to get your loved one rides and shifting the dynamic around giving rides will have a huge positive impact for someone with AMD vision loss.
Low Vision Tech Gifts
Along with low vision due to macular degeneration come tried and true tools for daily living. The gifts below are updates on standard low vision tools.
Pebble HD Magnifier
A high-tech spin on an old-school tool.  This electronic magnifier adds increased light, adjustable magnification, and contrast settings.
Why we love it –  designed to be highly portable and versatile.
Where to get it – Visit the Enhanced Vision website. 
Low Vision Phone
In the age of smart phones (which come with some great apps and built-in accessibility features by the way!), some people still enjoy landline phones at home. After we published our last gift guide we got a request for phones good for low vision. There are many options. You can search "low vision phones" to see more.
We found some that allowed "photo dialing" but due to central vision loss, photos might be hard to recognize, so we opted for the simple large button/large number design of this Home Intuition phone.
Why we love it: Because we love to hear from the community what products help them in their life, and this idea is a direct request from an AMD community member. We also love the simple design, the high contrast, and that it also features a loud ringer.
Where to get it: You can find on Amazon here.
Other ideas: There has been significant advancement in electronic eyeglasses for people with vision loss due to macular degeneration or other eye diseases. We can't recommend one over the other at this point because these products really need to be tested by the individual to see which works best for them. Some of the top options include SeeBoost, NuEyes, and Esight.
Gifts That Give Back
Eat Right for Your Sight Cookbook
Multiple studies confirm that diet can affect the progression of macular degeneration. AMDF developed this cookbook  with eye healthy recipes in collaboration with Jennifer Trainer Thompson and Johanna M. Seddon, MD, ScM.
Why we love it: When you order directly from AMDF, you support the AMDF's mission to provide education, increase awareness, and support research. Your gift to your loved one gives back to a cause close to their heart.
Where to get it: Directly from the AMDF website here, or Amazon here.  ** Special note on ordering – if ordering from AMDF, you may want to call 1-888-622-8527 to check on Christmas delivery. If you order through Amazon, you can still give back to AMDF by shopping on Amazon Smile and choosing AMDF as your charitable organization.
Other ideas: Accompany the cookbook with low vision cooking tools like this lighted, hands free magnifier for reading the cookbook, or low vision measuring tools.
Happy Holidays from all of us at AMDF!
---