If you're no longer able to work due to macular degeneration, you might be eligible for Social Security disability benefits. The Social Security Administration (SSA) offers monthly resources for people who are unable to earn a gainful living due to an illness or injury. Vision loss does not automatically qualify, but if your macular degeneration is advanced you could be awarded monthly financial aid to help make ends meet.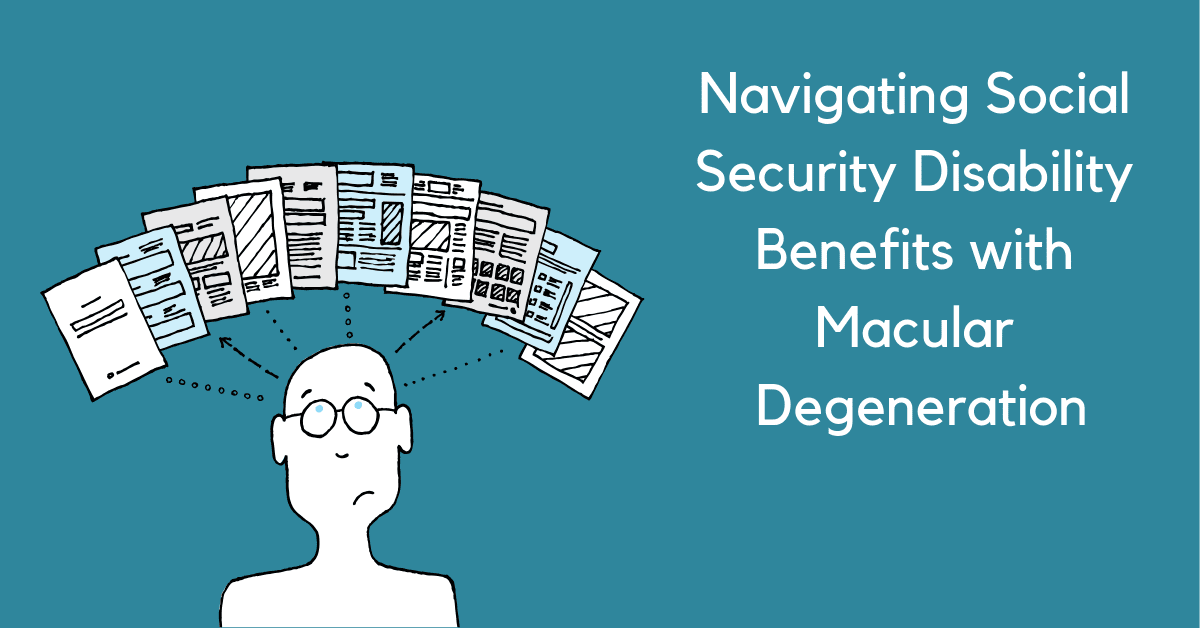 Medically Qualifying for Disability Benefits
The SSA uses its own medical guide, colloquially known as the Blue Book, when evaluating Social Security disability applicants. Macular Degeneration isn't listed specifically, but there are a few ways to qualify with vision loss.
Your eyesight is worse than 20/200 in your best eye after best correction.
Your visual efficiency percentage is 20 or less after best correction.
Your visual impairment value is 1.00 or greater after best correction.
Typically only applicants with late AMD will qualify for disability benefits, but an exception could include applicants who have a dangerous job that requires perfect vision, such as pilots. You may need to speak with your optometrist to calculate your visual field efficiency or your visual acuity. The entire Blue Book is available online, so you can review the vision loss listings with your doctor to determine where you might qualify.
It's also important to note that the SSA will evaluate your best eye, so if you've lost vision in one eye but can still see with the other, you will not qualify for Social Security disability benefits.
Additional Work Limits with Vision Loss
Most Social Security disability applicants can earn up to $1,180 per month (in 2018) while still qualifying for disability benefits. If you're approved for disability benefits with vision loss, you can work and earn up to $1,970 per month on top of your benefits without fear of losing disability.
This means if you need to reduce your hours due to macular degeneration, you still may be able to qualify for Social Security disability benefits while still working part-time.
Starting Your Application
The easiest way to apply is online on the SSA's Website. If you're unable to fill out paperwork online, you can ask a family member to fill out the application on your behalf.
You can also apply in person at your closest Social Security office. There are more than 1,300 offices located across the country. To apply in person, simply call the SSA toll free at 1-800-772-1213 to schedule an appointment at your nearest branch.
Most claims are approved within five months, although if it's clear that your vision loss is severe you could be approved faster. You will not need to submit any medical evidence personally–the SSA will collect your records on your behalf. Just make sure to fill out the application for disability as carefully as possible to ensure the SSA can make a decision quickly.
Additional Resources
**This article provided by Disability Benefits Help.