Our Favorite 2017 Gifts for People with Vision Loss from Macular Degeneration
**JUST RELEASED – The 2019 AMDF Gift Guide. 
The holidays are upon us! Do you have someone with low vision from macular degeneration in your life? Or wondering what to put on your own wish list?
Finding a gift for someone with vision loss from macular degeneration may at first seem like a challenge, but there are some really great products that are sure to bring a smile.
When people start to lose their vision, other areas of their life are affected, like independence, mood, and cognitive stimulation. AMD patients can suffer from loss of independence, depression, and cognitive decline as a result.
We wanted to create a gift guide that honors the unique needs of people with AMD while being fun, innovative, unique, and inspiring. While there are plenty of low vision products on the market, these are a few of our favorite things.
*Disclosure: All Amazon links are affiliate links. When you purchase a product through one of these links, Amazon will share a small commission with AMDF. In other words, your Amazon purchases will benefit AMDF and the community we serve at no extra cost to you! We only share products we believe to be of benefit to people with vision loss from macular degeneration. 
 Gifts that Keep them Sharp
Did you know that the loss of one of our senses is linked to cognitive decline? Help your loved one stay sharp with these gifts.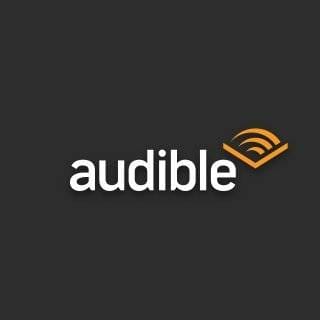 Audio Book Subscription  For the AMD person in your life who is struggling to read print, an audio book subscription will let them enjoy listening to their favorites. Make sure they have a device they can listen on. 
Why we love it – well, mostly because we're a bunch of readers ourselves!
Where to get it – Audible is one of the more popular audio book subscription services and you can sign up here.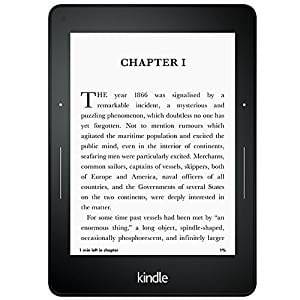 Kindle – the kindle is a lightweight, no-fuss electronic book reader. 
Why we love it – Kindle was already a good choice as a reader for low vision, but now they offer specific accessibility features for low vision like the voice-view screen reader, larger font sizes, contrast options, and more. Not to mention, no blue light!
Where to get it – on Amazon
Other ideas – large print word and number games like crosswords or Sodoku are often available in large print versions. Great stocking stuffers! 
Gifts of Independence
Shrinking independence can be one of the most frustrating aspects of vision loss. Give a gift that helps maintain or extend independence and you'll be sure to make it onto the nice list!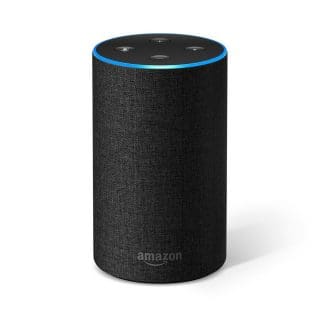 Amazon Echo and Echo Dot – a "hands-free speaker you control with your voice" to play music, set timers, ask questions, get news, sports, weather, and more. Connection to other smart devices opens more potential.
Why we love it –  Anna Schaverian said it best in her review of Amazon Echo for her blind father, "Being blind in a world of screens makes you feel like you've been left behind." We're happy that tech is evolving beyond screens so the visually impaired can get some use out of it too!
Where to get it – click here to go to the Amazon page.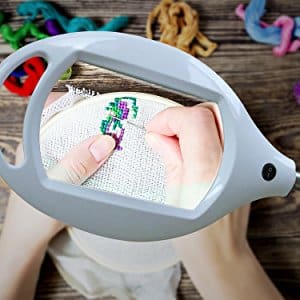 Brightech LightView Pro – Designed for aging eyes, this professional-quality 42-LED floor lamp boasts the largest available magnifier lens, made of authentic diopter glass, with a 15″+ focal range.
Why we love it – Lighting and magnification are two of the best tools that allow for the continuation of daily activities and hobbies, and this provides both in one tool that adjusts to different heights for different situations. We haven't yet tried it, but one of our staff members ordered it for her mother for Christmas based on positive reviews.
Where to get it – direct from Brightech's website here.
Gifts to Stay Social
Along with maintaining independence, people with vision loss from AMD need to stay social to ward off isolation, but not being able to participate easily in things can be an obstacle. These two gifts, one fun, and one practical, are great isolation busters, AND when you purchase either of these gifts, a portion of the proceeds go to AMDF to support our mission.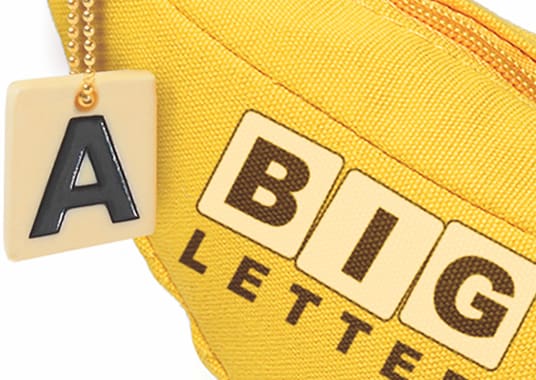 Big Letter Bananagrams – Fast-paced word game with 50% larger letters for people with low vision. 
Why we love it – Because this version was inspired by a Bananagrams fan with macular degeneration! Also, because our own Paul F. Gariepy can play without his magnifiers, and we tested it in the field and it was a hit with 4 generations at a family Thanksgiving gathering (you can read the whole story here).  
Where to get it – Big Letter Bananagrams is available on Amazon.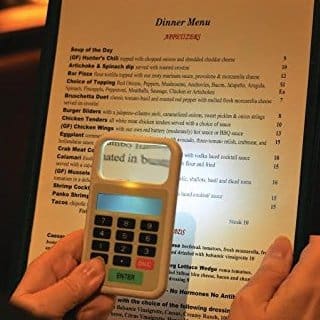 Tip-n-Split – This handy device is a magnifier, light, and calculator rolled into one.
Why we love it –  Restaurants are the WORST for the visually impaired with their dim lighting and small print menus. This device is more discreet than a smartphone, pocket-sized, and super easy to use. And you can read about the founder's story here.
Where to get it – You can order the Tip-n-Split here. 
---
 Special Staff Pick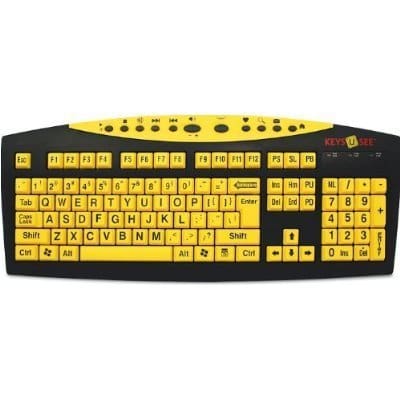 Low vision keyboard – large print, high contrast computer keyboard designed for the visually impaired.
Why we love it – from Jennifer at AMDF, "I was visiting my mother recently and she was trying to show me something on the computer. She was having to lift the keyboard to her face and alternate between lifting her glasses to see the keyboard and then put them back down to view the screen. That's when it hit me to search for a low vision keyboard for a Christmas gift. I think she's going to love it!"
Where to get it – you can find this one on Amazon here.
Happy Holidays from all of us at AMDF!
---