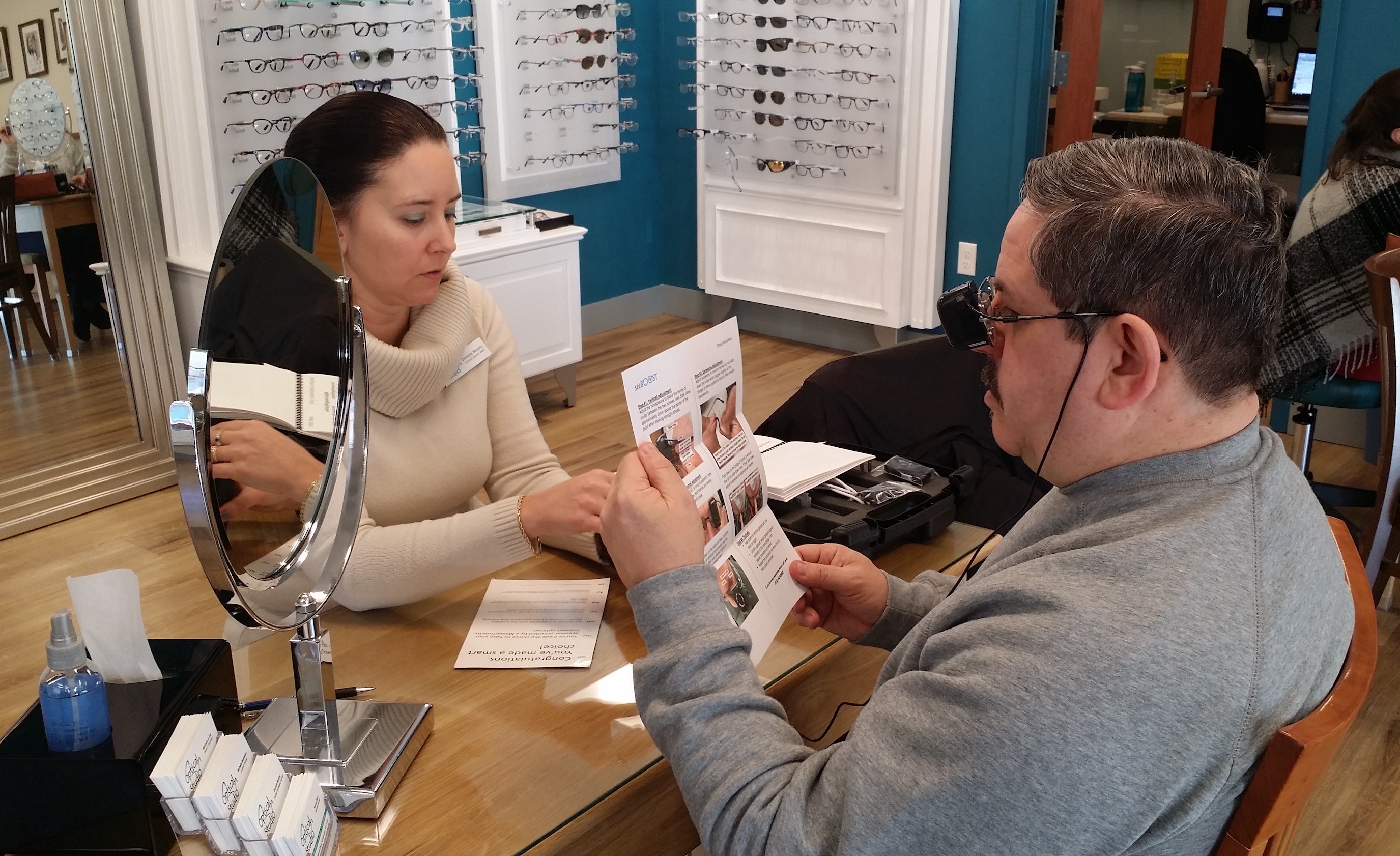 Earlier this year we had the opportunity to review a different kind of vision assistance device. SeeBoost glasses are designed specifically for central vision loss due to macular degeneration or diabetic retinopathy.
What is SeeBoost?
Where other low vision assistive devices are designed for low vision more generally, the founders of SeeBoost wanted to create a device better suited to those with macular degeneration.
SeeBoost is an assistive device for low vision combined with prescription glasses.
We spoke with SeeBoost CEO Patrick Antaki. "SeeBoost is a new category of prescription glasses which are electronic and explicitly made for persons with macular degeneration. We started this company about six years ago because we were interested in how we could apply our technical talents to this problem of how to improve the vision of people with macular degeneration."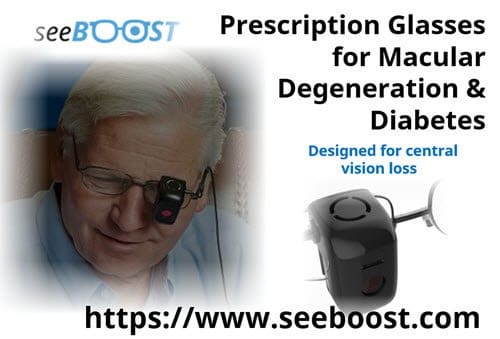 Features: 
Monocular Design – allows the wearer to maintain peripheral vision as well as eye contact with others.
Lightweight – allows longer use without causing neck strain.
Magnification, Brightness and Contrast Adjustments – three pillars for low vision are magnification, light and contrast. SeeBoost allows for easy adjustment of all three to allow the user to find the settings that are right for them and the situation.
Easy Controls – one knob is used for all adjustments, allowing the user to adjust easily as needed as they move task to task.
Auto-Focus – the camera auto-focuses to where the user is looking automatically.
Testing the Device
After hearing about SeeBoost glasses, AMDF's Paul F. Gariepy was excited to try out the device. As an avid reader (and we do mean avid) Paul is always open to devices that will keep him reading for as long as possible with his AMD vision loss.
Paul was diagnosed with the dry form of macular degeneration in 2010 and had a retinal detachment in his right eye in 2015 resulting in 5 surgeries. He relies on the better vision of his left eye for most tasks.
We should also note that Paul is 60 years old and still working, where most SeeBoost clients are older and retired.
Paul spent a few weeks using the device with close coaching from Pat Antaki, CEO of SeeBoost.
Paul's first impressions of the device were that it was, indeed, lightweight as claimed, high quality, with easy to use instructions and controls. He appreciated the high contrast for reading.
"The device feels light, not heavy. When the mini tv screen came on
for the first time, it was amazing. Really neat," said Paul after first getting fitted at the optometrist's office.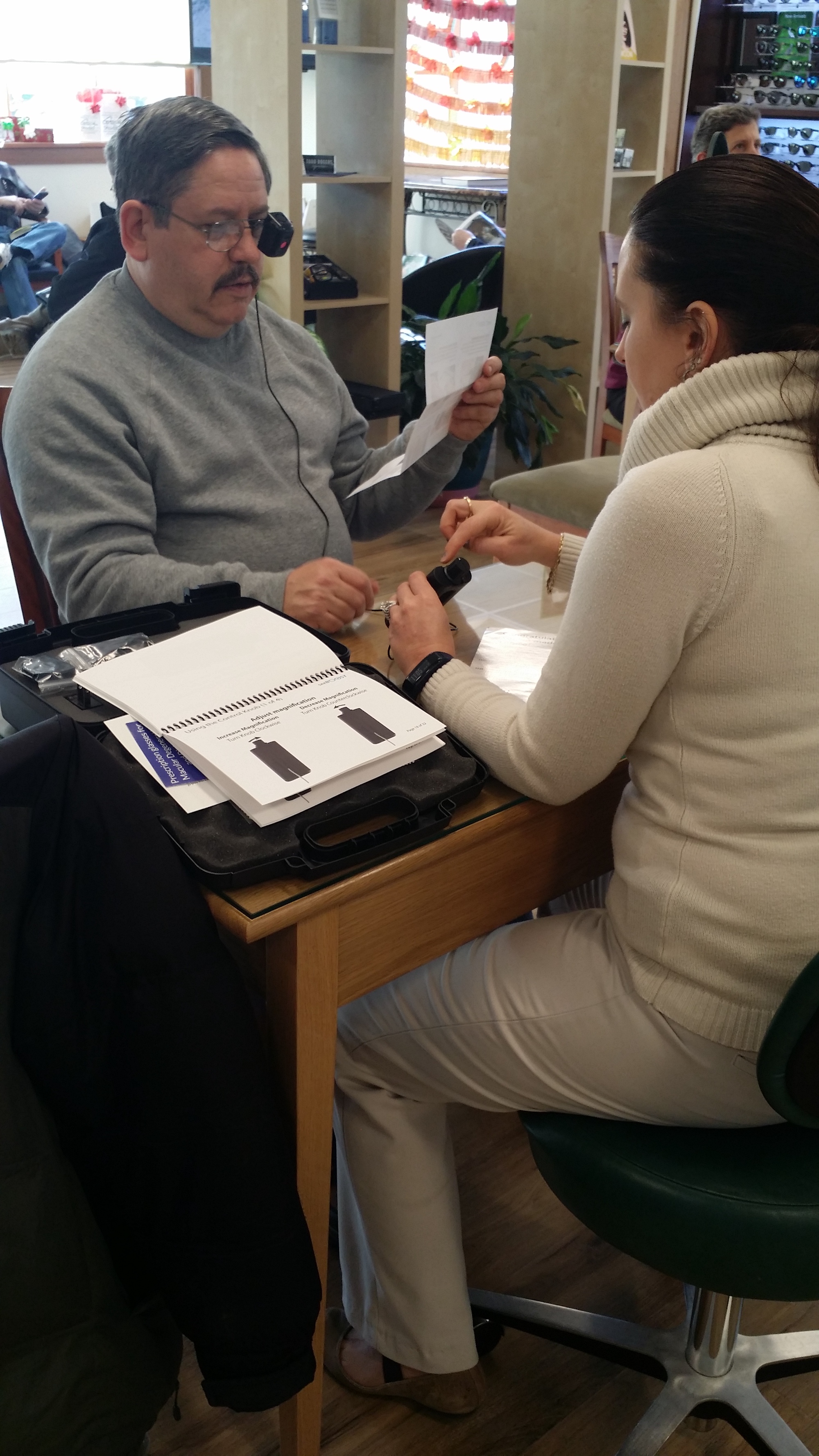 At home, Paul put his SeeBoost glasses through some tests.
"I read a few pages in my current book, Grant, by Ron Chernow. I did not have trouble seeing the words. Tried the toggle from black to white here. Found it easier to read with black letters and white pages."
Along with the option to switch contrast, there are also options to adjust brightness and magnification — the three most important elements to assist low vision resulting from AMD.
These adjustments are made by means of a simple dial allowing the user to adjust as they switch tasks.
Paul worked directly with Pat Antaki, CEO of SeeBoost, to learn more about the device. "Pat said some people use the device for just one thing – reading a book, for example. Others use it for multiple tasks – reading, watching TV, seeing people's faces when having a conversation. He said each user decides for his or herself how and how much to use it. He told me that if it is used for several tasks, it would be better to adjust the magnification for each separate task."
Adjusting the device task to task takes a little getting used to.
"I tried reading a prescription medicine bottle. It took some adjusting to find the right magnification for me, but I was eventually able to read the small print," said Paul.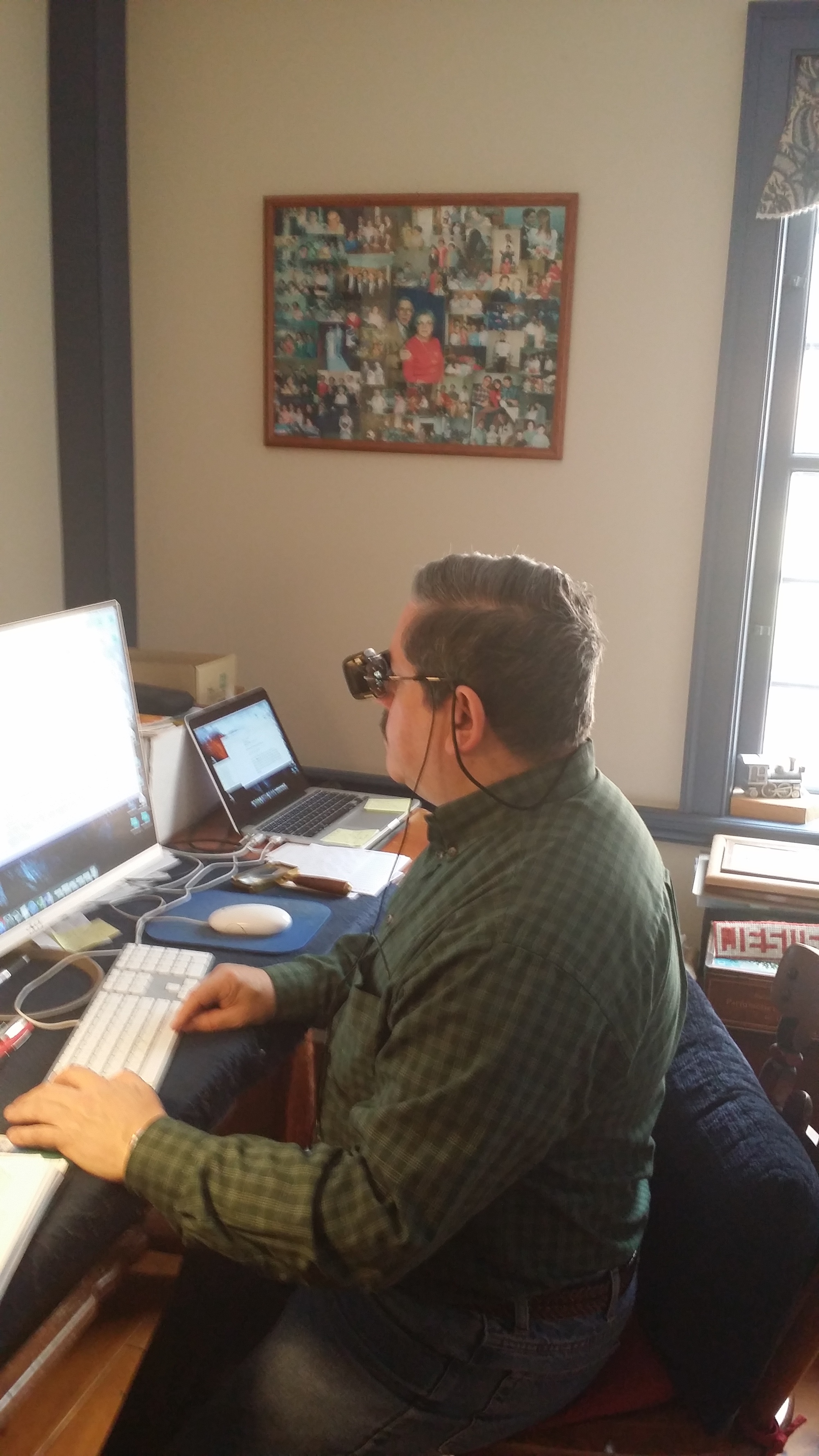 Paul tested his SeeBoost glasses for his AMDF computer work.
"Right now, I am doing okay using my magnifying glasses.  I use a magnifying glass while on the computer or opening the AMDF mail.  I have my current work situation so that its pretty efficient, despite using a magnifying glass. I can find my place and the cursor pretty quickly," said Paul. 
"Using the SeeBoost on the computer, I seemed to have trouble finding the cursor."
Pat Antaki told Paul that was a common problem and the cursor could be made larger or brighter or in color (which is a good tip for anyone with vision loss whether using assistive devices or not).
Paul found he was so used to his current system of using a magnifying glass for his computer that using the SeeBoost glasses slowed down his work process.
He said, "I find the See Boost device slows me down when I am entering data on the computer. I can see fine what I am doing but I need to keep moving my head up and down to check the computer screen to see that I am entering the data correctly and in the right cell. I have down for the information to enter, so my head is moving back and forth a lot and the mini TV screen needs to reset each time I turn my head."
Pat Antaki offered some suggestions to make this process easier, but in the end Paul decided he wasn't ready for the product yet. Not because it didn't work, but because he had already developed routines and tools to navigate his day with vision loss, preferred the routines and tools he was used to, and his vision loss didn't require the use of an assistive device for all activities (such as watching television for example).
Our Final Take
Overall we were very impressed with the device, and all the technical details designed for people with central vision loss. The team at SeeBoost thought of many things other wearable companies haven't. For example, the light weight allows for all day wear without neck strain; the monocular design allows eye contact while interacting with others; the simple dial means not having to find or fuss with multiple controls allowing for more fluid and natural control; and of course, as we mentioned, the key components that help people with vision loss are central to the device – contrast adjustment, brightness adjustment, and magnification adjustment.
SeeBoost is still a new technology. Updates to the device will include better personalization. We see this as a very promising device for people with vision loss due to AMD. It won't be for everyone, but for those who are in earlier stages of vision loss, or want to simplify their daily life with one wearable device as opposed to multiple devices and are ready to retrain their brain to work with the device, SeeBoost would be an excellent option.
Insurance won't cover SeeBoost glasses in most cases, but financing options are available. To learn more about SeeBoost, you can visit their website at SeeBoost.com.