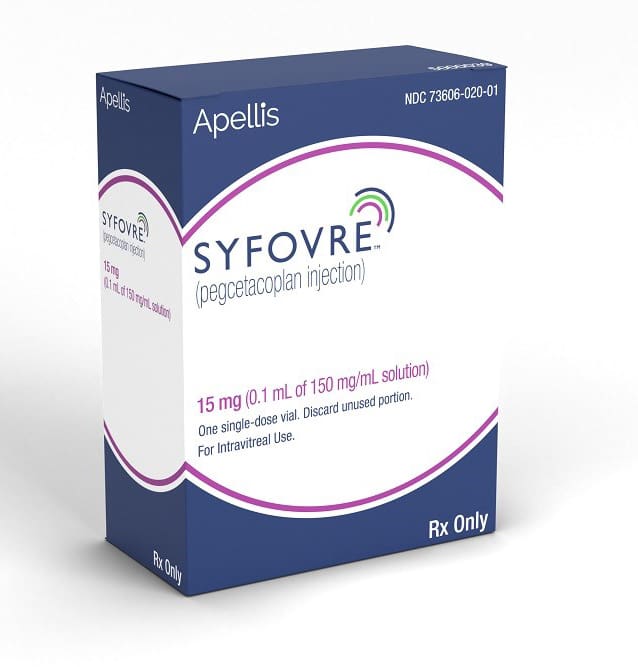 A groundbreaking, new frontier in macular degeneration treatment has been announced!
With the FDA's approval of Syfovre™, for the first time there's hope to preserve sight for millions of patients with the advanced stage of dry macular degeneration (dry AMD), called geographic atrophy (GA).
"This is extraordinary news," said Chip Goehring, Founder and President of AMDF, "and offers hope, not only to geographic atrophy patients, but to the macular degeneration community as a whole, that advances in our understanding of all stages of this disease can lead to treatments."
"The approval of SYFOVRE is the most important event in retinal ophthalmology in more than a decade," said Eleonora Lad, M.D., Ph.D., lead investigator for the OAKS study, director of ophthalmology clinical research, associate professor of ophthalmology, Duke University Medical Center. "Until now, there have been no approved therapies to offer people living with GA as their vision relentlessly declined. With SYFOVRE, we finally have a safe and effective GA treatment for this devastating disease, with increasing effects over time."
"GA is a complex disease that the field has spent decades trying to address, so we are humbled and proud to bring forward the first-ever treatment," said Cedric Francois, M.D., Ph.D., co-founder and chief executive officer, Apellis.
What Does Syfovre™ Treat?
Syfovre™ is currently approved for the treatment of geographic atrophy, an advanced stage of dry macular degeneration.
Dry macular degeneration is the most common form of age-related macular degeneration comprising about 80-90% of AMD patients, and usually develops slowly. For some patients, dry macular degeneration can turn into geographic atrophy, which is characterized by lesions that continue to grow in size and eventually cause dead zones in central vision.
Geographic Atrophy can damage central vision in as little as 30 months.
The term geographic atrophy may be new even to those with macular degeneration because, until now, there was no treatment and little discussion between doctors and patients.
To date, the only AMD treatment available has been for the neovascular, or wet, form of AMD. In the wet form (affecting 10 – 20% of AMD patients), leaky blood vessels cause sudden central vision loss — a process that can be halted with regular injections of anti-VEGF drugs into the eye.
How Does Syfovre™ Work?
Syfovre™ is administered by injection into the eye, and works by targeting a protein in the complement pathway.
In clinical trials, Syfovre™ was shown to reduce the rate of geographic atrophy lesion growth by up to 36% with monthly injection.
Dosing is set at about every 25 to 60 days, according to Apellis, the drug's manufacturer, depending on the individual's response.
Syfovre™ is currently not a treatment for early AMD, and does not completely halt disease progression like anti-VEGFs do for wet AMD.
Syfovre™ continues to improve in its ability to slow the growth of sight-stealing lesions and is most effective at 18-24 months.
This is a new frontier in macular degeneration treatment. Since patients can have either dry AMD or wet AMD — or both — in either or both eyes, and because Syfovre™ cannot be administered at the same time as anti-VEGFs, new treatment regimens will have to be worked out between retina specialists and patients.
How to Get This New Geographic Atrophy Treatment
Syfovre is expected to be available by the beginning of March through select specialty distributors and specialty pharmacies nationwide. If you have geographic atrophy, or suspect you might, contact your eye care specialist to ask about Syfovre™.