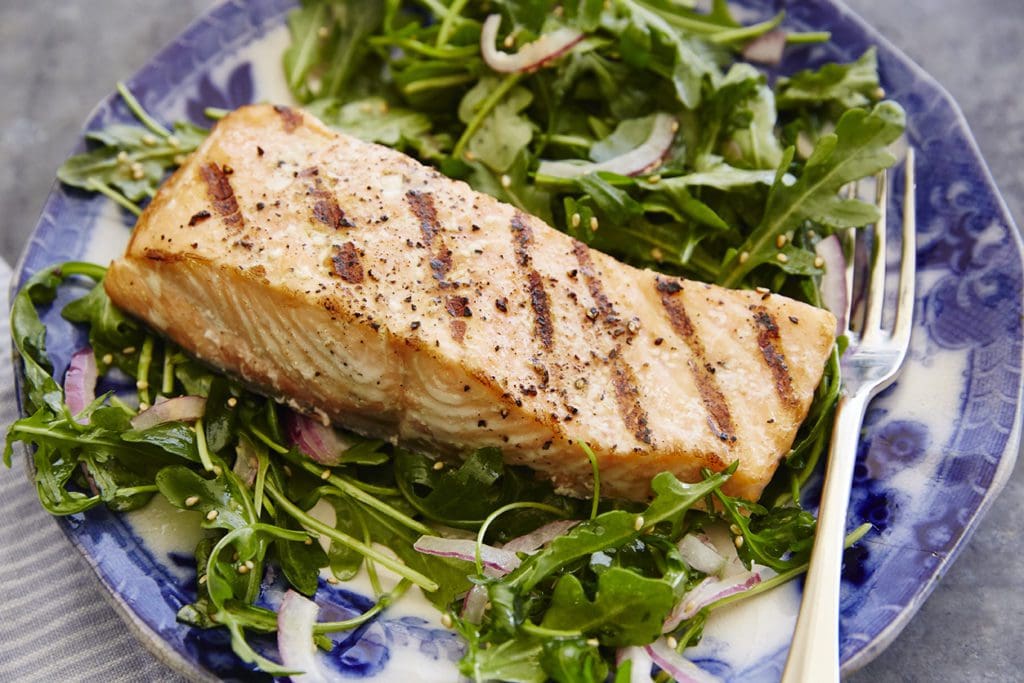 Ingredients
6 cups arugula, washed and dried
1/2 small red onion, halved and thinly sliced
2 tablespoons sesame seeds
1/4 cup olive oil
2 tablespoons sesame oil
4 tablespoons seasoned rice wine vinegar
1 teaspoon tamari (or 1/2 teaspoon soy sauce)
1 teaspoon fresh minced ginger
1 teaspoon minced garlic
4 salmon fillets or steaks
1 teaspoon grapeseed oil
Salt
Freshly ground black pepper
Yield: 4 servings
Instructions
To prepare the vinaigrette, whisk the olive and sesame oils, rice wine vinegar, tamari, ginger and garlic. 
Prepare the grill. Lightly coat both sides of each fillet with grapeseed oil and season with salt and pepper. Grill skin side down until the skin is crisp, about 5 minutes. Flip and cook the second side 2 minutes, or until done. Toss the arugula with the sesame seeds and vinaigrette, and divide among 4 dinner plates. Top each salad with salmon and serve.
Nutritional Profile
(per serving) 
Calories: 484
Total fat: 35 g
Saturated fat: 5 g
Protein: 36 g
Carbohydrates: 5 g
Fiber: 1 g
Sugars: 3 g
Cholesterol: 94 mg
Sodium: 557 mg
Vitamin A: 784 IU
Vitamin C: 5.4 mg
Vitamin E: 4 IU
Zinc: 1.6 mg
Beta-carotene: 529 mcg
Lutein and zeaxanthin: 1,067 mcg
Omega-3 fatty acids: 2.93 g
---
This recipe is from the Feast for the Eyes® collection, and originally appeared in the 2017 Feast for the Eyes® calendar.