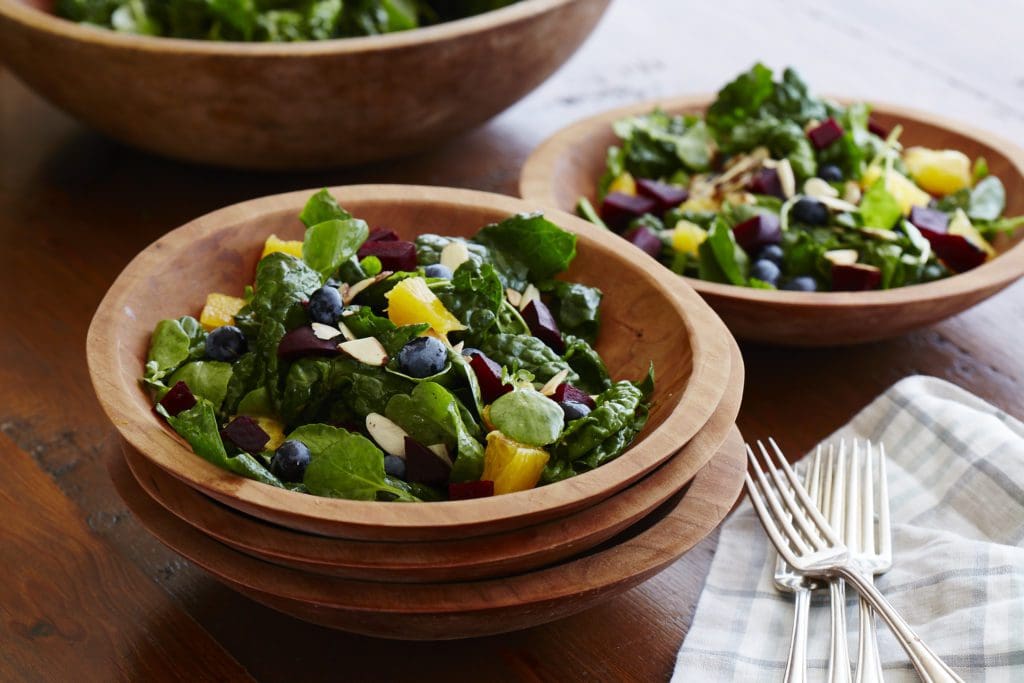 Ingredients
1/2 pound fresh spinach (not baby), washed, stemmed and dried
2 cups lightly packed watercress, washed and stems removed
Dressing:
1/2 tablespoon orange zest
1/2 teaspoon fresh grated ginger
1 tablespoon orange juice
2 tablespoons rice wine vinegar
6 tablespoons canola oil
1/4 teaspoon kosher salt
Fresh ground pepper
1 orange, peeled, segmented and cut into bite sizes
1/2 cup fresh blueberries
1 roasted, peeled beet, diced medium
1/4 cup toasted almonds
Yield: 4 servings
Instructions
Tear the spinach leaves into bite-sized pieces. Place in a large salad bowl, combine them with the watercress.
To prepare the dressing, combine the orange zest, ginger, orange juice, vinegar, canola oil, salt and pepper in a tightly fitting jar and shake until combined.
Pour over the salad greens and toss, adding more dressing if needed. Add orange slices, blueberries, beets and almonds and serve.
Nutritional Profile 
(per serving)
Calories: 288
Total fat: 26 g
Saturated fat: 5 g
Protein: 14 g
Carbohydrates: 14 g
Fiber: 4 g
Sugars: 8 g
Cholesterol: 0 mg
Sodium: 196 mg
Vitamin A: 5,971 IU
Vitamin C: 49 mg
Vitamin E: 5.3 IU
Zinc: 0.7 mg
Beta-carotene: 3,556 mcg
Lutein and zeaxanthin: 7,961 mcg
Omega-3 fatty acids: 0 g
---
This recipe is from the Feast for the Eyes® collection, and originally appeared in the 2017 Feast for the Eyes® calendar.