This recipe contains foods with good nutrients for macular degeneration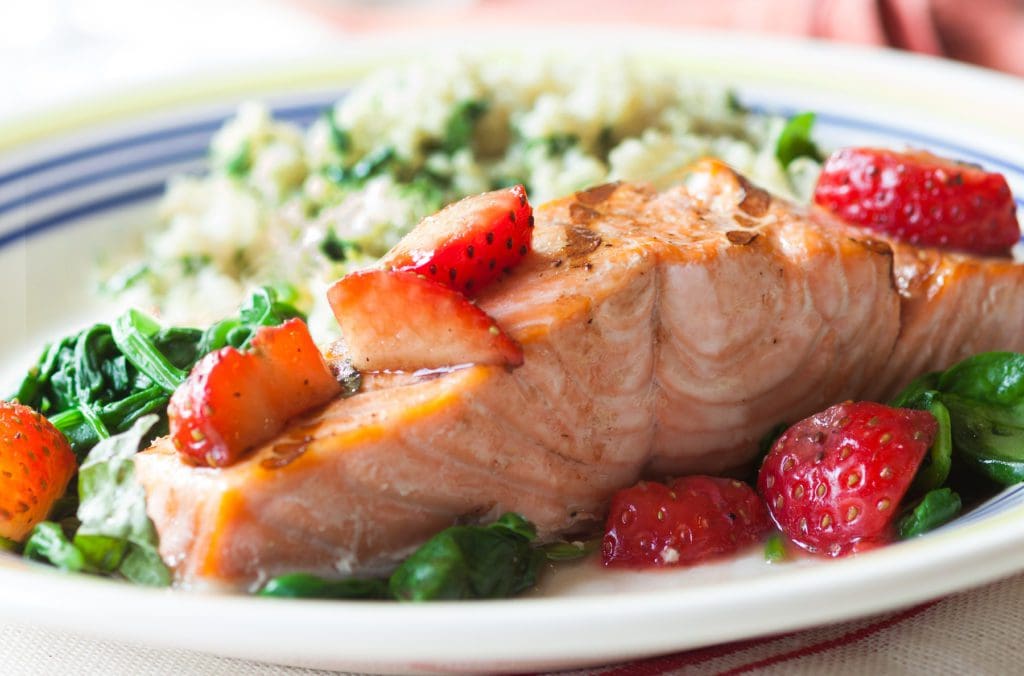 This recipe from Canyon Ranch, a long-standing health spa, features salmon, which is a good source of omega-3 fatty acids, as well as niacin and magnesium. The lemon and strawberries help with absorption of the iron in the spinach. This recipe is also rich in lutein and zeaxanthin, nutrients for macular degeneration that can help slow the progression of the disease.
Ingredients
SALMON
Four 4-ounce salmon fillets
2 teaspoons fresh lemon zest
1/4 teaspoon sea salt
1/4 teaspoon freshly ground black pepper
PEPPERED BALSAMIC STRAWBERRIES
2 cups small diced fresh strawberries
2 tablespoons fresh basil chiffonade
1 tablespoon balsamic vinegar
1 tablespoon turbinado sugar
1/2 teaspoon coarsely ground black pepper
1/2 pound fresh spinach
Yield: 4 servings
Instructions
Preheat a grill or broiler. Season the salmon fillets with lemon zest, salt and pepper. Grill or broil the salmon fillets 3 to 5 minutes on each side, until the fish is cooked through.
In a medium bowl, mix the strawberries, basil, vinegar, sugar, and pepper until well combined.
Steam the spinach to your desired doneness, about 3 to 5 minutes. Evenly divide the steamed spinach among four plates. Place each salmon fillet on greens and top with 1/2 cup of peppered balsamic strawberries.
Nutritional Profile
Serving size: 1 fillet
Calories: 261
Protein: 31 g
Fiber: 3 g
Fat: 10 g
Saturated Fat: 1 g
Sodium: 287 mg
Vitamin A: 5,448 IU
Vitamin C: 62 mg
Vitamin E: 2 IU
Zinc: 1 mg
Beta-carotene: 3,238 μg
Lutein and zeaxanthin: 7,013 μg
Omega-3 fatty acids: 3 g
---
Credit line: Recipe from Eat Right For Your Sight: Simple Tasty Recipes That Help Reduce the Risk of Vision Loss from Macular Degeneration, BY JENNIFER TRAINER THOMPSON AND JOHANNA M. SEDDON, MD, ScM. Copyright © 2015 American Macular Degeneration Foundation. Reprinted by permission of the publisher, The Experiment. Available wherever books are sold.