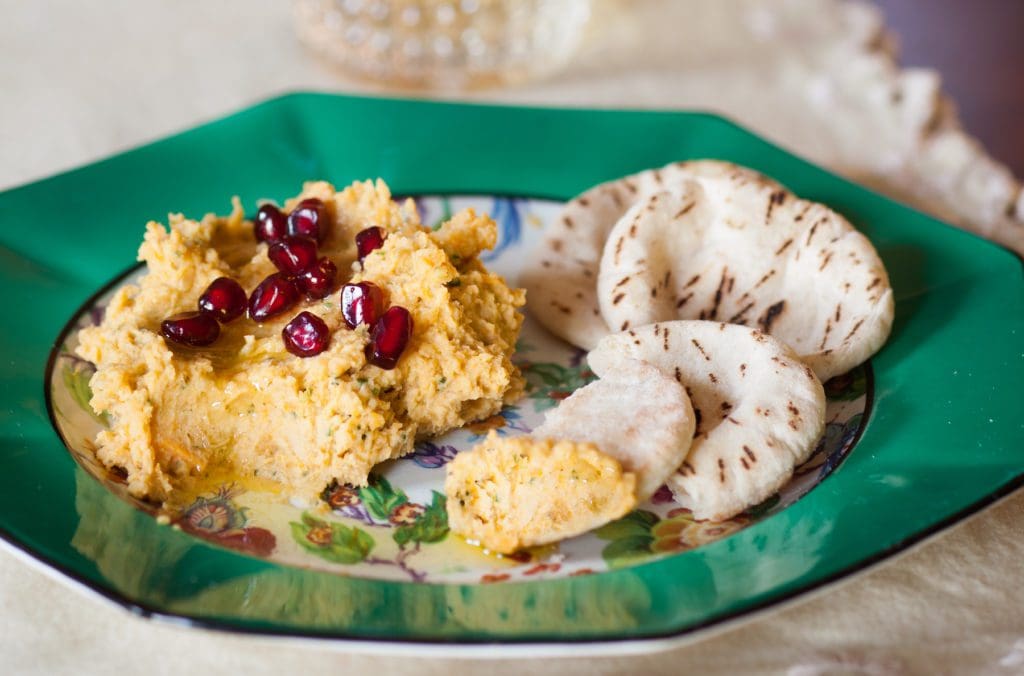 Squash is rich in carotenoids – good nutrients for macular degeneration. You might dress up this dish by drizzling the top of the hummus with a little extra virgin olive oil, chopped cilantro, chopped walnuts (another food rich in nutrients good for macular degeneration), and pomegranate seeds. Serve with warm whole wheat pita triangles or flour tortillas for lunch, brunch, a snack, or an appetizer.
Makes 3 Cups
1 small butternut squash, peeled, seeded, and cut into 2-inch chunks (about 2 cups)
1 tablespoon plus 2 tablespoons extra virgin olive oil
1 15-ounce can chickpeas, drained
1/4 cup tahini
3 tablespoons freshly squeezed lemon juice
1/4 teaspoon ground coriander
1/2 teaspoon ground cumin
1 tablespoon freshly chopped cilantro
3 garlic cloves minced
1 teaspoon hot sauce
1/2 teaspoon sea salt
Freshly ground black pepper
1/8 teaspoon cayenne, more for serving
Preheat the oven to 350°F. Toss the squash with 1 tablespoon of olive oil. Place on a baklng sheet, and roast until the squash is tender, about 30 minutes. Set aside to cool.
In a food processor, pulse the chickpeas until coarsely chopped, then add the cooked squash, tahini, lemon juice, coriander, cumin, cilantro, garlic, hot sauce, salt, and pepper; process until smooth.
To serve, ladle the mixture into a bowl, drizzle with the remaining 2 tablespoons of olive oil, and dust with cayenne.
Nutritional Profile
Serving size: 2 tablespoons
Calories: 64
Protein: 2 g
Fiber: less than 1 g
Fat: 4 g
Sodium: 105 mg
Vitamin A: 1,254 IU
Vitamin C: 3 mg
Vitamin E: 1 IU
Beta-carotene: 498 μg
Lutein and zeaxanthin: 2 μg
Credit line: Recipe from Eat Right For Your Sight: Simple Tasty Recipes That Help Reduce the Risk of Vision Loss from Macular Degeneration, BY JENNIFER TRAINER THOMPSON AND JOHANNA M. SEDDON, MD, ScM. Copyright © 2015 American Macular Degeneration Foundation. Reprinted by permission of the publisher, The Experiment. Available wherever books are sold.