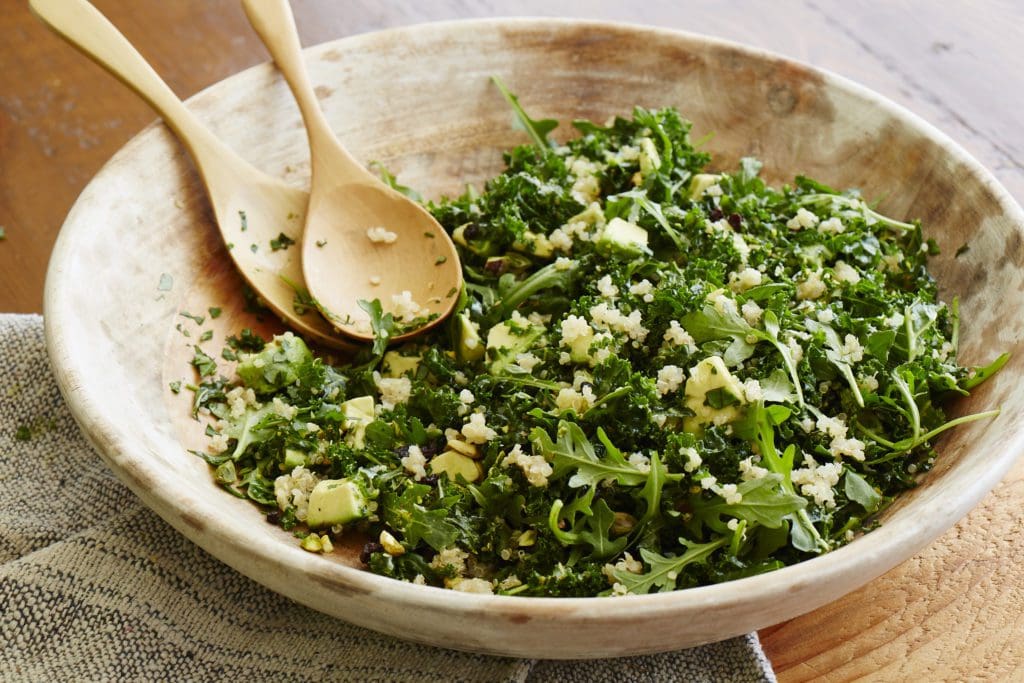 Ingredients
3 large leaves of curly kale, stems removed and leaves julienned
3 tablespoons olive oil
1 tablespoon fresh lemon juice
1/4 teaspoon sea salt
Freshly ground black pepper
1 cup cooked quinoa
1 avocado, pitted and cubed
1 cup packed arugula
1/4 cup pistachios
2 tablespoons currants
1 tablespoon each of fresh chopped parsley and basil
Yield: 4 servings
Instructions
In a bowl, toss the kale with the olive oil, lemon juice, salt and pepper. Set aside for 5 to 10 minutes to soften the kale. Add the quinoa, avocado, arugula, pistachios, currants, parsley and basil and toss.
Nutritional Profile
(per serving)
Calories: 277
Total fat: 22 g
Saturated fat: 3 g
Protein: 5 g
Carbohydrates: 18 g
Fiber: 6 g
Sugars: 2 g
Cholesterol: 0 mg
Sodium: 148 mg
Vitamin A: 602 IU
Vitamin C: 21 mg
Vitamin E: 4.5 IU
Zinc: 1.1 mg
Beta-carotene: 192 mcg
Lutein and zeaxanthin: 538 mcg
Omega-3 fatty acids: 0.1 g
---
This recipe is from the Feast for the Eyes® collection, and originally appeared in the 2017 Feast for the Eyes® calendar.