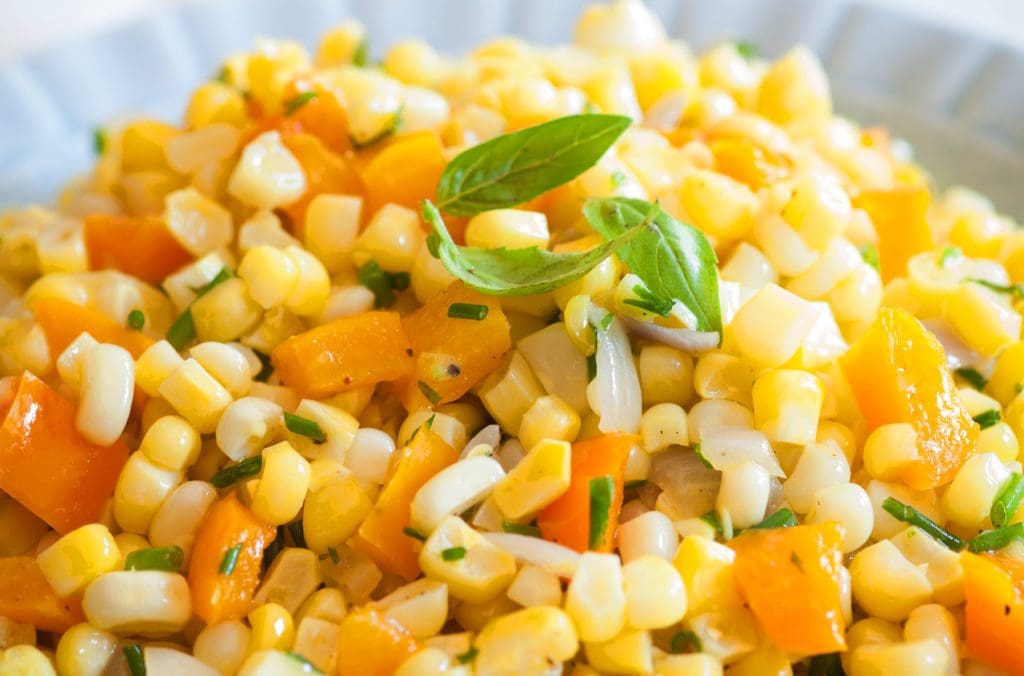 In late summer, when corn is bountiful, Ina Garten tosses kernels with other vegetables and herbs that are available on Eastern Long Island, creating a casual fresh dish that's a colorful accompaniment to a grilling menu. In this recipe, she suggests cooking the corn as soon as possible after it's picked because sugar turns to starch quickly.
For those with low vision, who may have difficulty removing the corn kernels from the cob, frozen corn kernels may be used. This recipe is part of an overall eye-healthy macular degeneration diet.
Ingredients
2 tablespoons good olive oil
1/2 cup chopped red onion
1 small orange bell pepper, 1/2-inch diced
2 tablespoons unsalted butter
Kernels cut from 5 ears yellow or white corn (4 cups)
1 1/2 teaspoons kosher salt
1 teaspoon freshly ground black pepper
2 tablespoons julienned fresh basil, minced fresh chives, and/or minced fresh parsley
Yield: 6 servings
Instructions
Heat the olive oil over medium heat in a large sauté pan. Add the onion and sauté for 5 minutes, until the onion is soft. Stir in the bell pepper and sauté for 2 more minutes.
Add the butter to the pan and allow it to melt. Over medium heat, add the corn, salt, and pepper and cook, stirring occasionally, for 5 to 7 minutes, until the corn just loses its starchiness. Season to taste, gently stir in the basil or other green herbs, and serve hot.
Nutritional Profile
Serving size: 1 Cup
Calories: 175
Protein: 4 g
Fiber: 3 g
Fat: 10 g
Saturated fat: 3 g
Sodium: 497 mg
Vitamin A: 199 IU
Vitamin C: 37 mg
Vitamin D: 3 IU
Vitamin E: 1 IU
Zinc: 1 mg
Beta-carotene: 56 μg
Lutein and zeaxanthin: 87 μg
---
Credit line: Recipe from Eat Right For Your Sight: Simple Tasty Recipes That Help Reduce the Risk of Vision Loss from Macular Degeneration, BY JENNIFER TRAINER THOMPSON AND JOHANNA M. SEDDON, MD, ScM. Copyright © 2015 American Macular Degeneration Foundation. Reprinted by permission of the publisher, The Experiment. Available wherever books are sold.