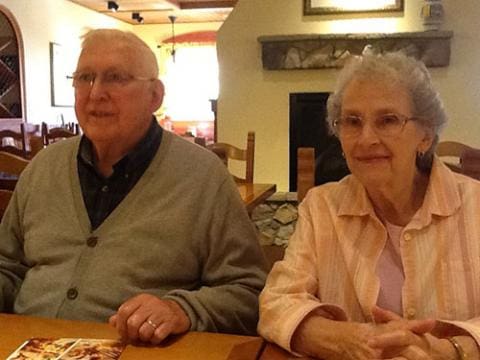 A Missionary's Approach to AMD
Polly Brown takes an unusual approach to Age-related Macular Degeneration. It isn't an easy one, and she knows it isn't for everyone. She believes it's her job — perhaps even her right — to "be thankful in all circumstances." That phrase is from the tail end of a letter from the Christian missionary Paul to people living in Thessalonica in the first century. Paul himself is thought to have suffered from vision problems — so much so that he mentions in another letter in the Bible that he knows his friends would give him their own eyes if they could. Whatever Paul's story, Polly Brown takes his suggestion as — well — a bit of divine instruction.
Brown was diagnosed with Age-related Macular Degeneration in her left eye in 2006, after coming out of cataract surgery. She was 78. "It was kind of a shock because my first cataract surgery, in the right eye, was perfect," she said recently in an interview. "I could see clearly. But the surgery for the left eye was funny. After the surgery there was this big mushroom-shaped floater that didn't go away. That afternoon I was sent to a retinal specialist."
Brown has been undergoing treatments for AMD in her good eye, to preserve her vision. The treatments are most recently at the Flaum Eye Institute at the University of Rochester in N.Y., near where she and her husband Ralph live. Every six weeks she receives an injection of Avastin, the formula which inhibits the growth of abnormal blood vessels behind the eye, slowing or even stopping the progress of "wet" AMD.
Brown used to dread injections. "They're not that painful — because the eye is numb," she said. "But there's some discomfort, with the eye clamped open. And for a few hours afterward, I'm crawling around with my eye all irritated and watering. Plus, dilated. I prefer afternoon appointments. At least then I don't lose the whole day. I can go home and go to bed with a cold washcloth on my eye."
The Browns were missionaries overseas since they were in their early 20s, having only moved to back to the United States in early retirement. Given their work, they know the Bible backward and forward. And Polly was well aware of that obscure bit about gratitude. At first —
"Be thankful for everything? Well, who can do that, all the time?" she said. "But I decided that, instead of dreading the monthly appointments, I was going to be thankful that there's a treatment, and a specialist, and this research. Plus, I have insurance to pay for it. I go in with that attitude. You know, last time I went, the aftermath was not as bad."
Another obviously good thing is that, due to the treatments, Brown has plenty of sight in that right eye. She can even read, especially under a bright light. She was thoroughly enjoying a P.G. Wodehouse novel when we interviewed her — one in a big stack of fiction, biographies, and Bible study books that has been a standard mix her whole life. At church she uses Kindle and large-print Bibles.
At 85, Brown does not see well enough to drive. But Ralph can drive, so they are well set to run errands or to see their five grown children (and seventeen grandchildren and six great-grandchildren … ). They moved to Rochester, NY, two years ago to live with one of their sons and his wife.
"While we're still able to be independent, we're well set if the time comes when we need more help," Brown says. Even now their daughter-in-law often invites them for dinner, "especially on injection days." (Although, when they stay home on those days, Ralph cooks. This is a new skill for him, Polly Brown notes wryly. "He has become very good at opening cans of beef stew.")