Kale is one of the best foods for lutein and zeaxanthin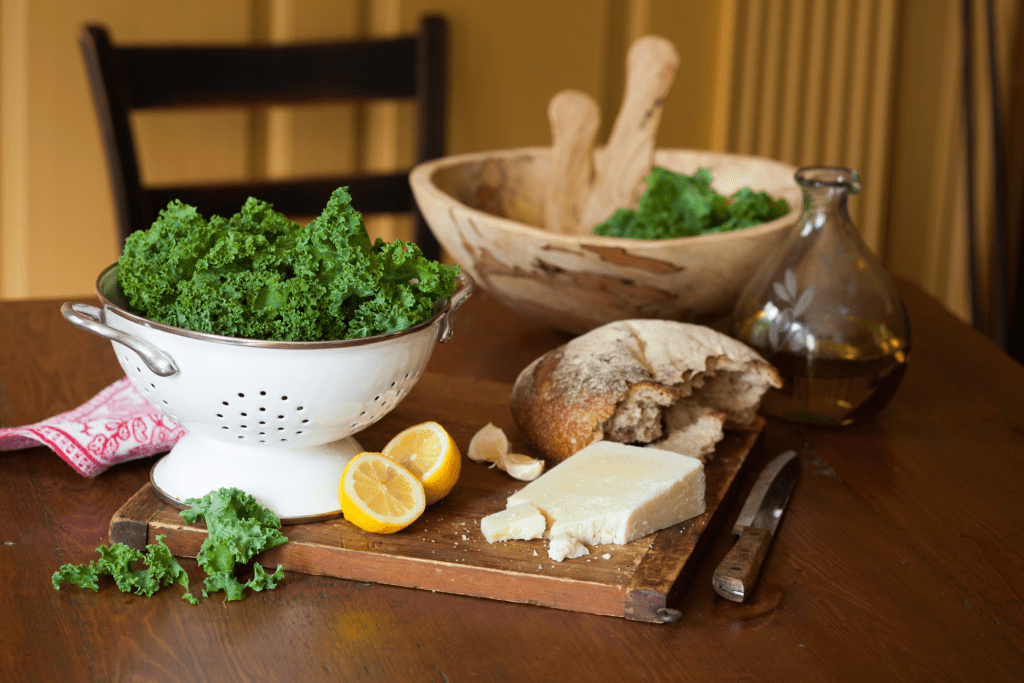 One of the most common green vegetables in Europe until the 1400s, raw kale has once again become a star in the garden; with more lutein than other greens, it has powerful antioxidant activity and is rich in beta-carotene, vitamin C and zeaxanthin. When chopped, kale also releases a chemical called sulforaphane, which is thought to have anti-cancer properties. This recipe is from Dr. Andrew Weil and his True Food Kitchen in Phoenix.
Ingredients
Juice of 1 lemon
3 to 4 tablespoons extra virgin olive oil
2 garlic cloves, mashed
Sea salt and freshly ground black pepper, to taste
Red pepper flakes, to taste
4 to 6 cups loosely packed, sliced leaves of Italian black (lacinato, "dinosaur", cavolo Nero) kale, with tough stems removed
2/3 cup grated Pecorino Toscano cheese (Rosselino variety if you can find it) or other flavorful grating cheese such as Asiago or Parmesan
1/2 cup freshly made bread crumbs from lightly toasted bread
Yield: 4 servings
Instructions
Whisk together the lemon juice, olive oil, garlic, salt, black pepper, and a generous pinch (or more to taste) of the red pepper flakes.
Pour over the kale in a serving bowl and toss well.
Add two thirds of the cheese and toss again.
Let the kale sit for at least 10 minutes.
Add the bread crumbs, toss again, and top with the remaining cheese.
Nutritional Profile
Serving size: 1 Cup
Calories: 340
Protein: 13 g
Fiber: 3 g
Fat: 21 g
Saturated fat: 5 g
Sodium: 650 mg
Vitamin A: 17,388 IU
Vitamin C: 142 mg
Vitamin E: 3 IU
Zinc: 1 mg
Beta-carotene: 10,349 μg
Lutein and zeaxanthin: 44,188 μg
---
Credit line: Recipe from Eat Right For Your Sight: Simple Tasty Recipes That Help Reduce the Risk of Vision Loss from Macular Degeneration, BY JENNIFER TRAINER THOMPSON AND JOHANNA M. SEDDON, MD, ScM. Copyright © 2015 American Macular Degeneration Foundation. Reprinted by permission of the publisher, The Experiment. Available wherever books are sold.