A colorful recipe for macular degeneration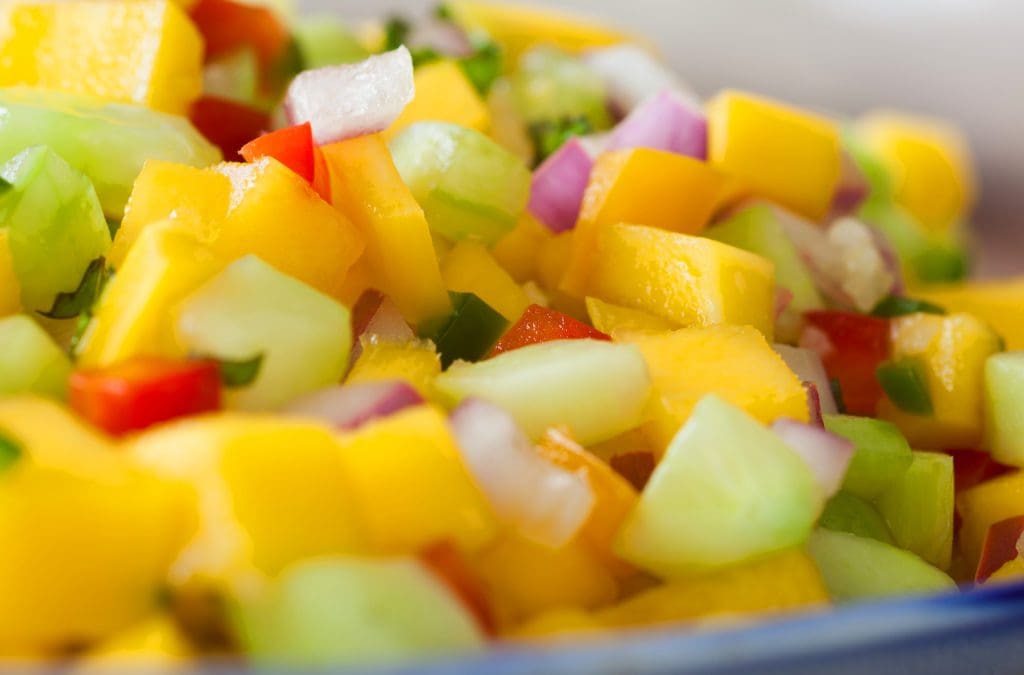 With its clean, sharp flavors, this dish makes a pretty first course or side dish to fish tacos. A good rule of thumb with eye health and best foods for macular degeneration, is to eat colorful vegetables and fruits every day, since they are foods high in lutein and zeaxanthin.
Serves 4
2 mangoes, peeled, seeded, and diced (about 2 cups)
1 small red onion, finely diced
2 tablespoons freshly squeezed lime juice
1 garlic clove, minced
2 cucumbers, peeled, seeded, and diced
1/2 jalapeño pepper, cored, seeded, and diced
2 tablespoons diced yellow or red bell pepper
2 tablespoons freshly shredded mint leaves
Sea salt
Freshly ground black pepper
Combine all the ingredients in a large bowl. Cover and refrigerate until ready to serve.
Nutritional Profile
Serving size: 1 Cup
Calories: 85
Protein: 2 g
Fiber: 3 g
Fat: 1 g
Saturated fat: less than 1 g
Sodium: 157 mg
Vitamin A: 1,279 IU
Vitamin C: 48 mg
Vitamin E: 1 IU
Beta-carotene: 731 μg
Lutein and zeaxanthin: 60 μg
Lycopene: 3 μg
Credit line: Recipe from Eat Right For Your Sight: Simple Tasty Recipes That Help Reduce the Risk of Vision Loss from Macular Degeneration, BY JENNIFER TRAINER THOMPSON AND JOHANNA M. SEDDON, MD, ScM. Copyright © 2015 American Macular Degeneration Foundation. Reprinted by permission of the publisher, The Experiment. Available wherever books are sold.