A study conducted at New York Presbyterian/Columbia University Irving Medical Center, and published in Nature Medicine, indicates that patients with macular degeneration are at higher risk of complications due to COVID-19.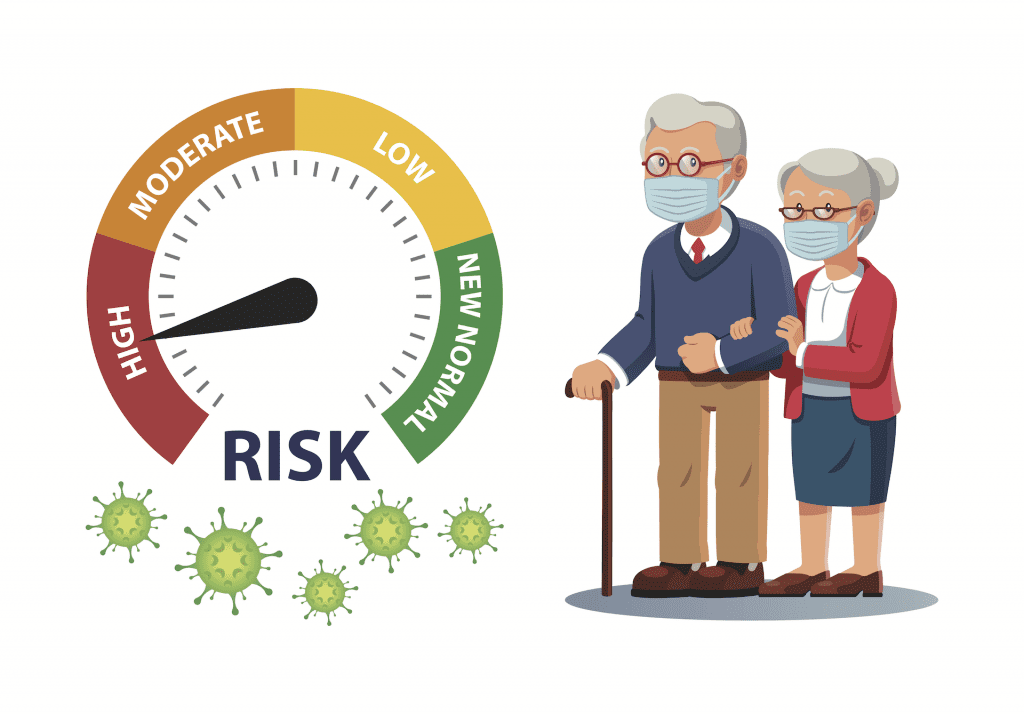 The study, entitled "Immune complement and coagulation dysfunction in adverse outcomes of SARS-CoV-2 infection," looked at 6,398 COVID patients during the first wave of the pandemic.
Among the patients, researchers tracked macular degeneration patients because, as Dr. Sagi Shapira explained, there was a suspected link between hyperactive complement system activity and more severe disease progression in COVID patients, and it is understood that macular degeneration is a disease driven by a hyperactive complement system.
You can read the original study here. https://www.nature.com/articles/s41591-020-1021-2
The authors found that macular degeneration was strongly associated with poor outcomes from COVID-19, including increased need for intubation and increased mortality. Those in the study with macular degeneration and who died also succumbed more quickly than other patients. Neither age nor sex could explain the increased succeptibility of AMD patients to this infection.
To be clear, this study does not indicate that AMD patients are more at risk of GETTING COVID-19, but IF they do become infected, they are at more risk of complications.
What You Can Do
We share this with you not to alarm you, but to empower you to make the best possible decisions for your health and safety.
Evidence is strong that wearing a mask (fitted and worn properly) while in public, social distancing, frequent and thorough hand-washing, and avoiding public and private gatherings (even amongst family and friends) greatly reduces your risk of contracting the virus.
Here is a link to a good guide on the level of protection different types of masks provide, what type of mask to wear in different environments, and how to ensure proper fit. https://www.washingtonpost.com/opinions/2021/01/26/n95-masks-safest-next-best-options/
And click here for another article on increasing your protection with double-masking and how to do it properly:
Additionally, intentional planning to reduce your number of outings reduces your exposure. For example, stocking up on groceries in order to reduce frequency of trips to grocery stores, or, even better, having groceries delivered, will reduce your exposure, and therefore risk, to the virus that causes COVID-19.
We are not doctors and can't advise you on your decision to receive the COVID-19 vaccine, but we hope this information will help you make the best decision for you, under your doctor's advice, as you make choices for your health and safety..
What Else You Can Do
Your doctors may not be aware of this study. COVID-19 is still a new virus and keeping up with all the information is challenging.
Before visits to any of your doctors, ask that they schedule you during low traffic times, ask what their safety protocols are, and let them know you have a condition that is suspected to greatly increase your risk of COVID-19- related complications should you contract the virus. You can also forward this study to them.
Please also see our guide, Coronavirus and Your Macular Degeneration Care .
If You Have Questions
While we aim to empower you with this information, we know that it may raise questions. You can leave your question in the comments below or send your questions to us through the contact form on our site. It's possible that we won't be able to answer all of your questions, nor respond to you individually, and remember, our team is not equipped to give you individual medical advice. But, if there are questions we can answer, we'll update this article or answer your questions in comments.
Lastly
Please share this article with your friends and loved ones, both to inform them of your risk, but also so that they may share it with their friends and family so that we can get this information into the hands of anyone who needs it.
If this work is important to you, please consider supporting us today. You can become a supporting monthly member, or make a one-time donation today by clicking below.