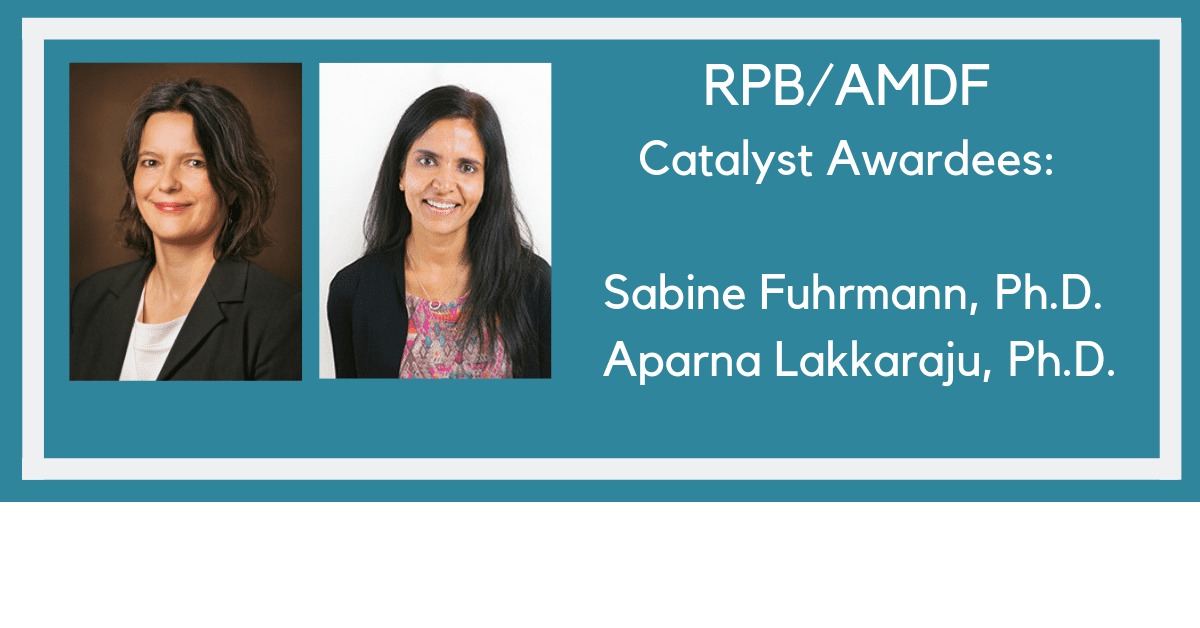 The American Macular Degeneration Foundation (AMDF), in partnership with Research to Prevent Blindness (RPB), has announced the recipients of the RPB/AMDF Catalyst Awards for Innovative Research Approaches for Age-Related Macular Degeneration, which provide seed money for high-risk/high-gain AMD research into both dry and wet forms of the disease. Each grantee will receive $300,000, payable across three years, pending a mid-point review.
Sabine Fuhrmann, PhD, Associate Professor, Vanderbilt University Medical Center, Nashville, Tennessee, will examine the potential of retinal pigment epithelium (RPE) cells to regenerate in mature mammalian eyes. RPE cells support the healthy functioning of photoreceptor cells, while their degeneration leads to progressive, chronic AMD. By identifying and using small molecule and other novel regulators, Dr. Fuhrmann's lab hopes to stimulate a previously discovered, intrinsic, regenerative response.
Aparna Lakkaraju, PhD, Associate Professor, University of California, San Francisco, School of Medicine, will also be focused on the retinal pigment epithelium, studying RPE cell damage in early AMD using advanced microscopy to observe disease progression in living cells. While Dr. Lakkaraju's goal is learning about the genetic mechanisms that initiate RPE decline, she will also evaluate therapies that can preserve the health of the RPE, using drugs that are either already approved for human use, or in clinical/preclinical development (an approach that can shorten the time to translate these findings to the clinic).
"AMDF is continuing to grow its vision research commitments," said Chip Goehring, President, AMDF. "By supporting these accomplished researchers in pursuing potentially game-changing treatments for macular degeneration, we hope to accelerate the arrival of new, sight-saving breakthroughs. And, by combining our resources with the grant-making experience and expertise of Research to Prevent Blindness, we are sharply increasing our ability to advance the science."
The Catalyst Awards support previously unfunded, innovative science conducted by highly qualified scientists, equipping them with flexible dollars that allow them to pursue new discoveries in the course of their investigations.
These 2019 RPB/AMDF Catalyst Awards are part of a larger collaboration, also supported by the International Retinal Research Foundation, that is funding a total of four grants.
"We are thrilled to welcome the American Macular Degeneration Foundation into this funding collaboration," said Brian F. Hofland, PhD, President, RPB. "The number of applications for the Catalyst Awards was up this year and AMDF's participation allows us to double our capacity to fund important AMD research. The potential for these innovative projects is significant."
The co-funding of these RPB/AMDF Catalyst Awards for Innovative Research Approaches in AMD is part of a broader program expansion by AMDF which began with the inaugural AMDF Prevention Award in 2017 (to Johanna Seddon, MD, ScM, University of Massachusetts Medical School, for her pioneering AMD epidemiological and genetic research); the first presentation in 2017 of the AMDF Breakthrough Award (to Neena Haider, PhD, Department of Ophthalmology, Harvard Medical School, for research focused on disease pathway interventions); and the AMDF Prevention Award in 2018 (to Kip Connor, PhD, Department of Ophthalmology, Harvard Medical School, for research focused on the interaction between the body's innate defense systems, nutrition, environmental factors, genetic profile and modifiable lifestyle choices). In 2019, AMDF sponsored two Travel Grants for young researchers to attend the ARVO international vision research annual meeting, and is co-sponsoring a series of grants with Fight for Sight.
---
Research to Prevent Blindness (RPB) is the leading nonprofit organization supporting eye research directed at the prevention, treatment, or eradication of all diseases that damage and destroy sight. As part of this purview, RPB also supports efforts to grow and sustain a robust and diverse vision research community. Since it was founded in 1960 by Dr. Jules Stein, RPB has awarded more than $368 million in research grants to the most talented vision scientists at the nation's leading medical schools. As a result, RPB has been associated with nearly every major breakthrough in the understanding and treatment of vision loss in the past 50 years. Learn more at www.rpbusa.org.