September 2023
The American Macular Degeneration Foundation participated in Capitol Hill events hosted by the Alliance for Eye and Vision Research (AEVR) for the 5th year in a row.
The purpose of these events is to raise awareness about the need for increased eye research funding to keep pace with the cost of meaningful eye research. While AEVR's goal is to increase funding for all eye research, AMDF's role over the years has been to represent the interests of the AMD patient population.

This year, AMDF sent two representatives: Matthew Levine, AMDF Director of Grants, Advocacy and Partnerships; and Jennifer Williams, AMDF Director of Communications and Community Engagement. We were sad that our founder, Chip Goehring, and our Secretary/Treasurer, Paul Gariepy, were unable to join this year due to a pending heart procedure for Chip.
We arrived in DC the evening before the main events, and a spontaneous meeting erupted in the lobby of our hotel!  This gathering of minds included AMDF team members, AEVR Executive Director Dan Ignaszewski, AMDF grant recipient and Congressional Briefing featured speaker Dr. Neena Haider, patient advocate speaker and AMDF partner Mark Roser, and VisionAid.io cofounder Taylor Speegle.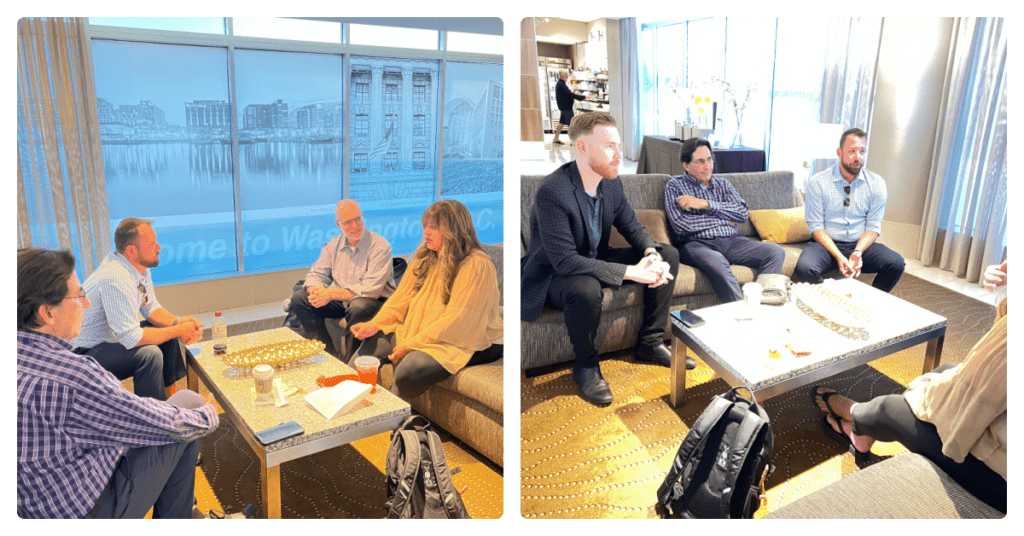 While the lobby meeting was coincidental, the synergies among our small group were powerful. AMDF had invited Dr. Haider (whose promising gene therapy work AMDF supports) to speak with young scientists and legislators about the extensive commitment, time and financing required to produce meaningful scientific breakthroughs, along with a glimpse into her revolutionary approach to gene therapy.  We had also invited VisionAid cofounder Taylor Speegle to make the experience of vision loss real by demoing his company's immersive, augmented reality, low vision simulator, both at the Briefing and during one-on-one visits with legislators the following day.  Mark Roser, with whom AMDF has a longstanding collaboration to distribute the self-monitoring tool called the KeepSight Journal, was there to personalize the Briefing by describing AMD patient anxiety and the counterbalancing hope that is generated by research breakthroughs and patient empowerment. And Dan Ignaszewski, with his extensive understanding of government functioning, kept on generating new possibilities for future collaborations between all of us!
Congressional Briefing
On Wednesday, September 20, 2023, AEVR hosted a congressional briefing in the House Rayburn Office Building. AMDF funded researcher, Neena Haider, PhD (Harvard Medical School) was the main speaker at the briefing, on the topic Advancements in Macular Degeneration: New and Upcoming Therapies.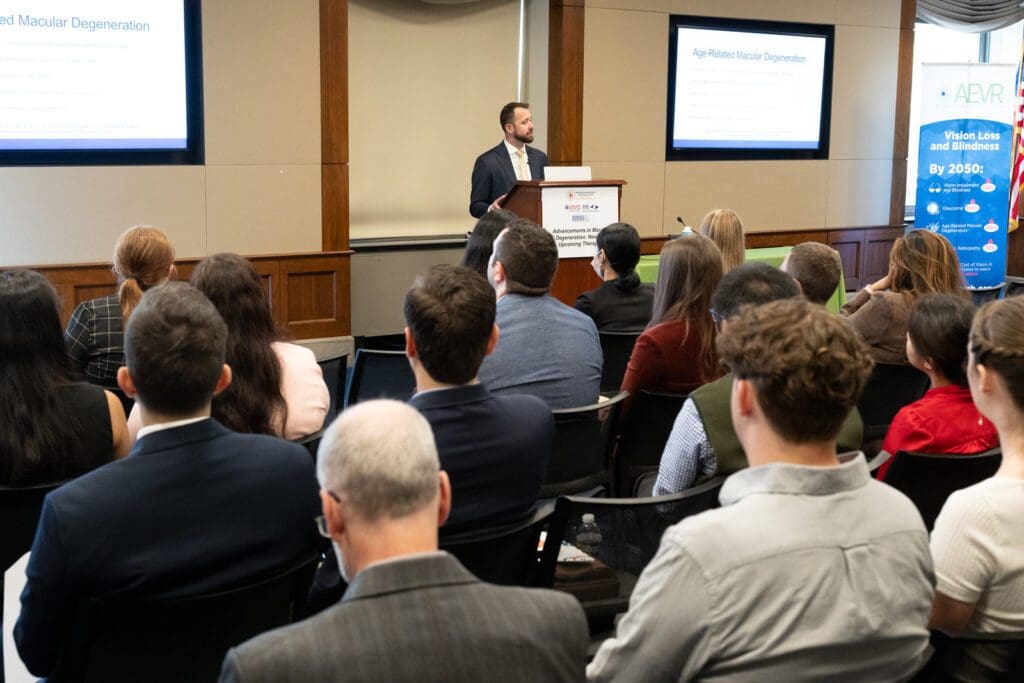 Speaking to a full room of legislators, Congressional aides and young researchers, Dr. Haider gave a master class in how to speak about complex science to nonscientists during her presentation on her lab's advancements in gene therapy research for macular degeneration. 
The patient advocate speaker was Mark Roser, a long-time valued collaborative partner to AMDF as the creator of the KeepSight Journal.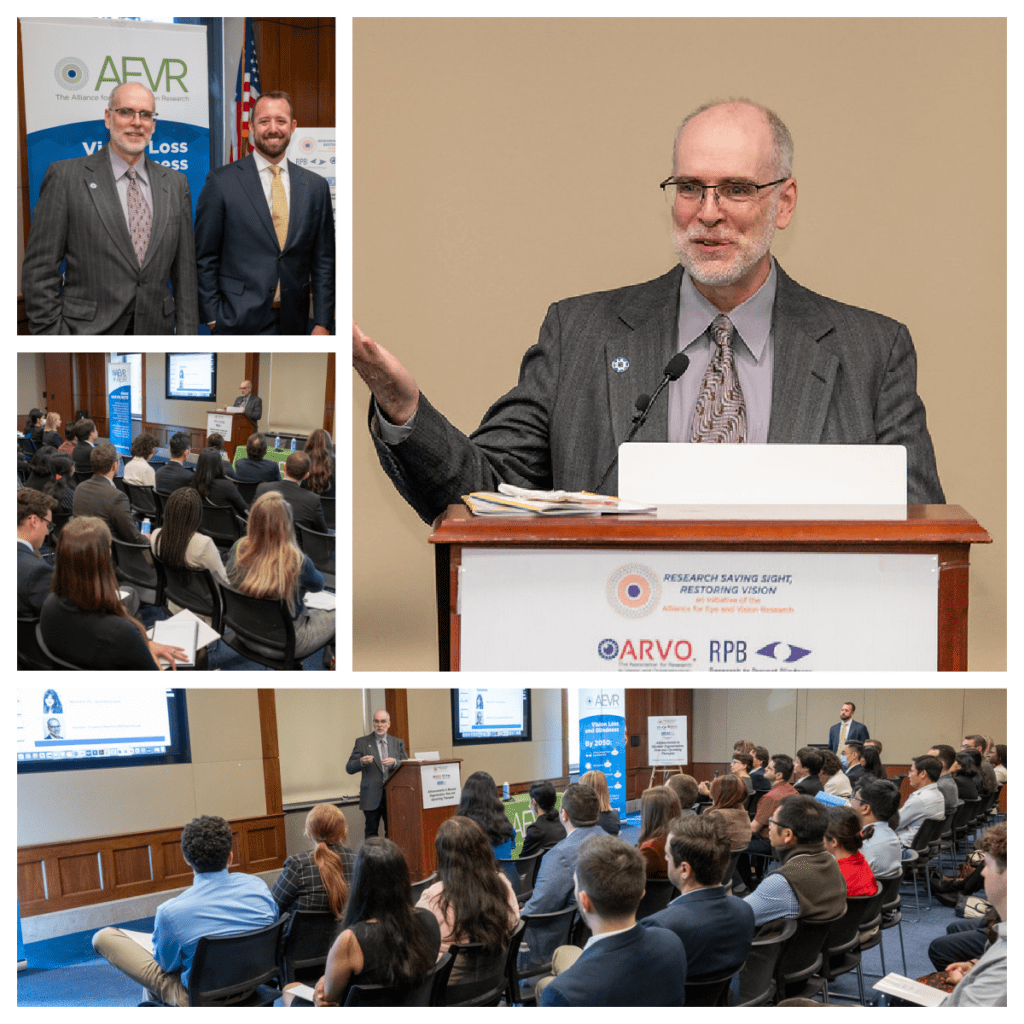 You can view the briefing in its entirety, courtesy of AEVR, on YouTube.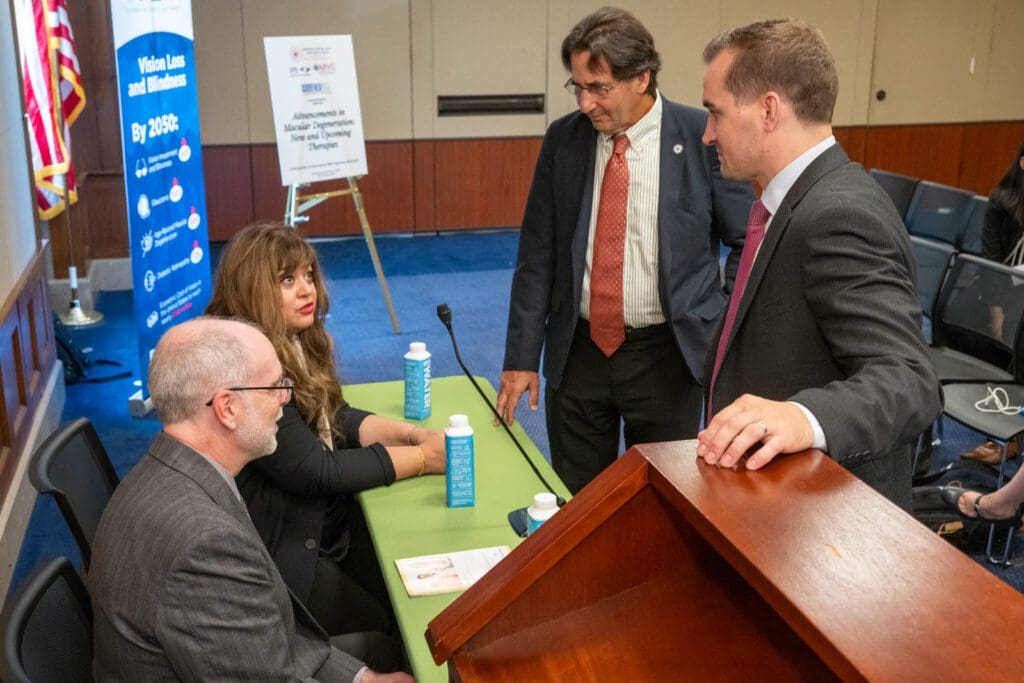 Emerging Vision Scientists Reception
Representatives from AMDF later attended the Emerging Vision Scientists Reception where the work of 31 early-stage vision scientists from across the country was on display. The event, made possible by support a grant from Research to Prevent Blindness (with whom AMDF co-funds grants!), focused on answering the question, "How will this research delay or prevent the $717 billion annual cost of eye disease and vision impairment projected by year 2050?"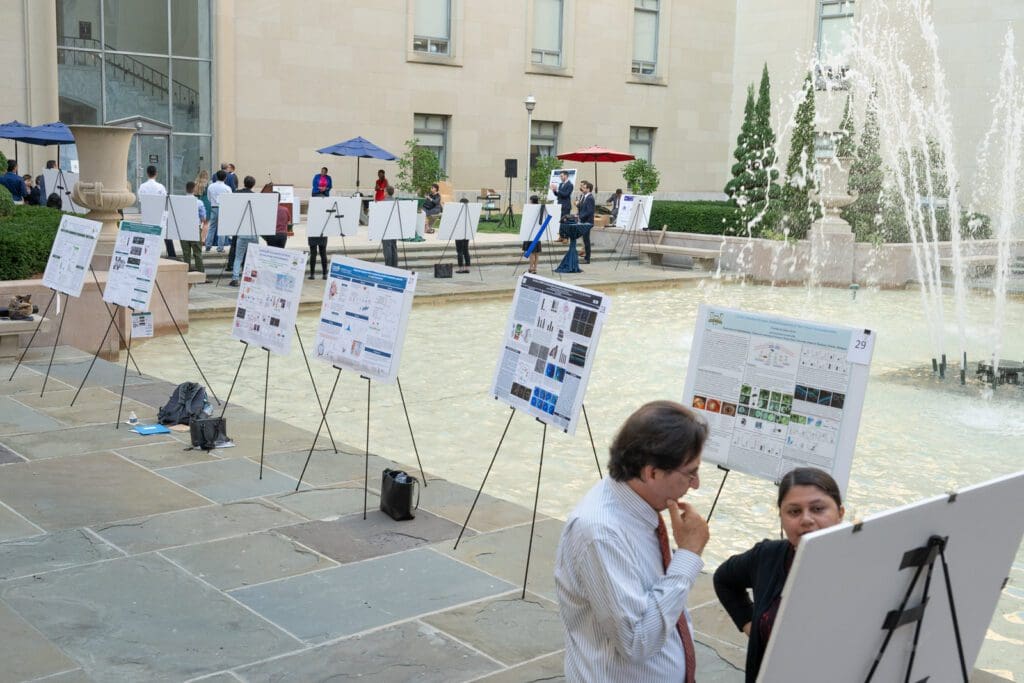 Augmented Reality Makes the Reality of Vision Loss from Macular Degeneration Tangible to Researchers and Congressional Aides
Also featured at both events, in partnership with AMDF and AEVR, was a low vision simulator experience hosted by Taylor Speegle, co-founder of VisionAid and co-creator of the one of the world's most advanced eye disease and vision loss simulators. The simulation experience was available for scientists and congressional aides, driving home the reality of what living with vision loss is really like. Particularly for scientists, it is one thing to examine the disease at the molecular and cellular levels, and an entirely different thing to be immersed in the lived experience of vision loss.
Such immersive experiences also have the potential to improve patient adherence to treatment, and we look forward to further collaborations with VisionAid to improve outcomes for patients.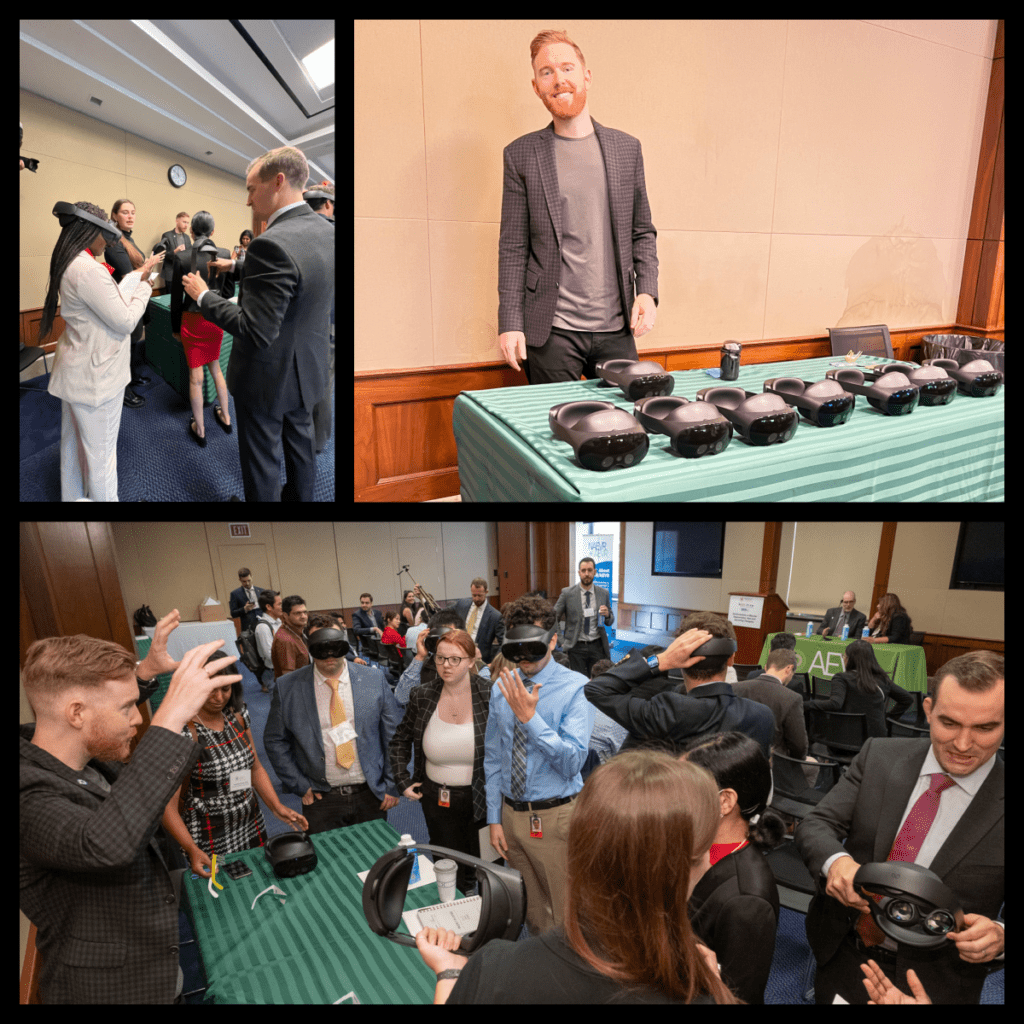 AMDF Joins Capitol Hill Visits
AMDF played a pivotal role in day two Capitol Hill visits to multiple congressional offices to urge policymakers to continue to increase funding for eye research. Among the visits AMDF attended were visits to: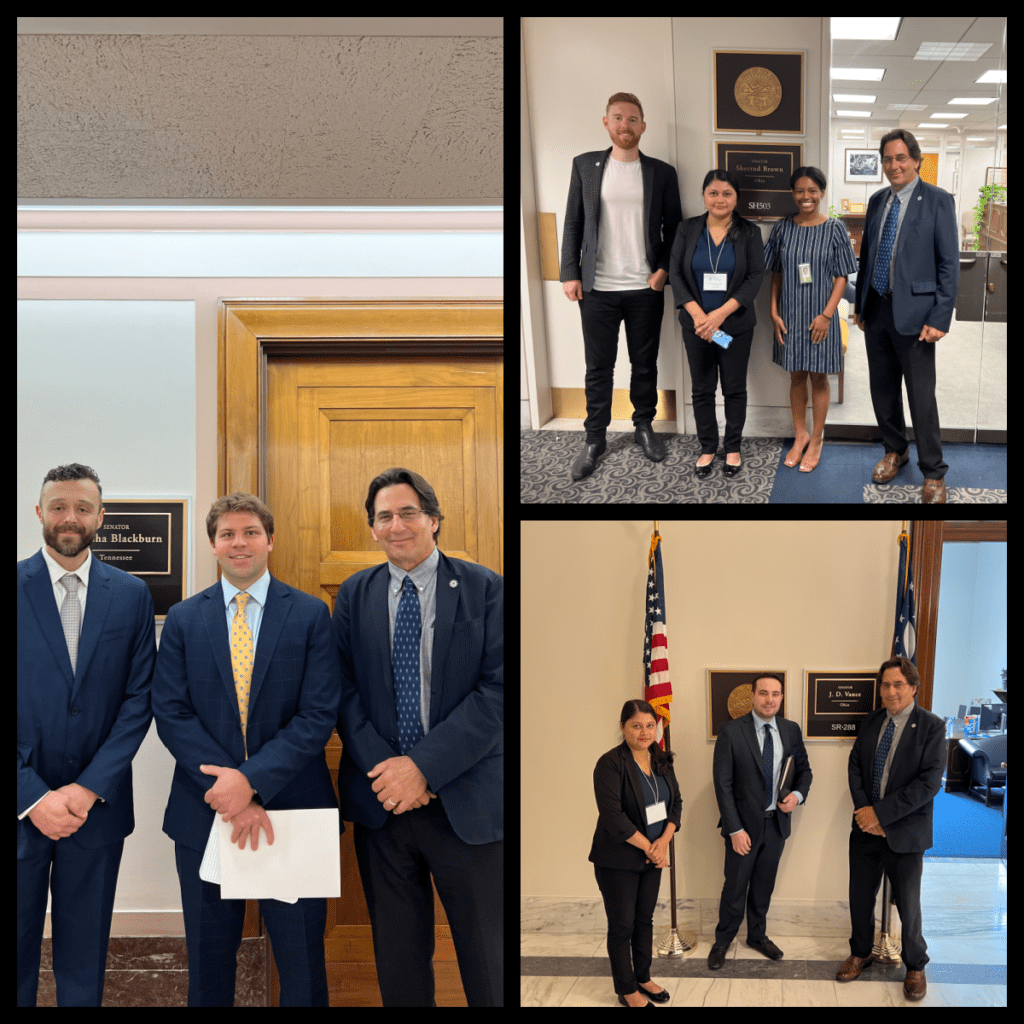 Looking Ahead
AMDF is dedicated to increasing our impact on Capitol Hill and beyond. We are currently in the planning stages of developing an advocacy event to occur during February, AMD Awareness Month. It's too early to share our plans, but we hope to open opportunities for more patients to participate in person and through online efforts.
Your support means the world to us, and we encourage you to continue your involvement in our shared journey to find better treatments and a cure for macular degeneration.