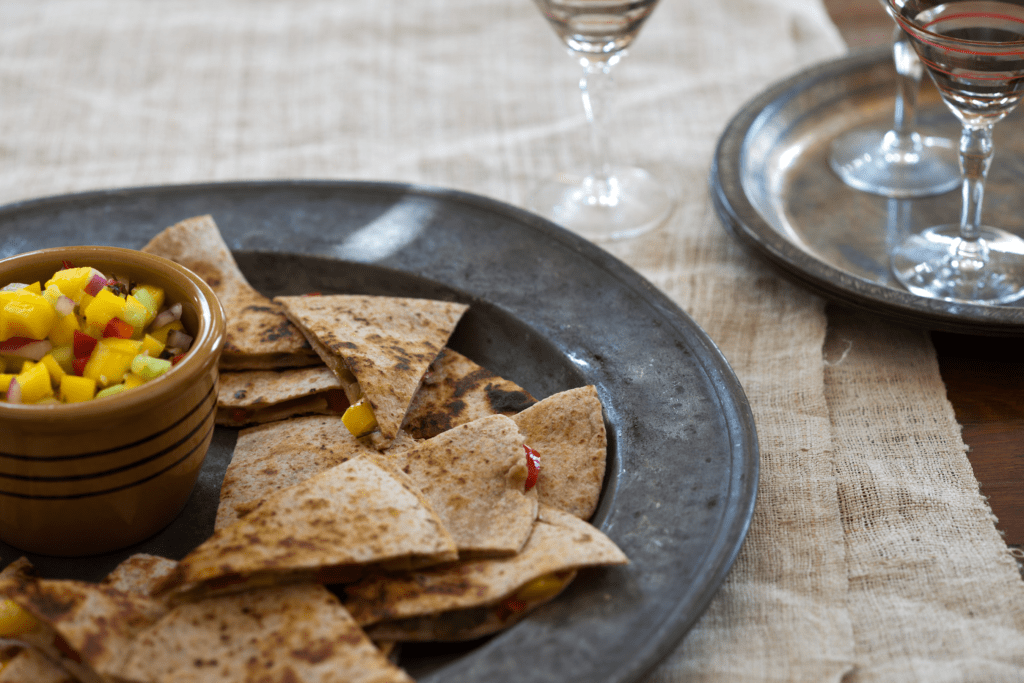 Nutritionally dense and high in vitamin C, beta-carotene, and other carotenoids, bell peppers are good for your skin, immune system, and eyes. For variety, add diced zucchini to the peppers, or substitute black beans, corn, and cilantro.
Ingredients
1 tablespoon olive oil
1 cup chopped yellow bell pepper
1 cup chopped red bell pepper
1 cup chopped green or orange bell pepper
1/2 cup chopped scallions
1/2 teaspoon ground cumin
1/2 teaspoon sea salt
1/4 teaspoon freshly ground black pepper
1/4 teaspoon red pepper flakes, or cayenne, or to taste
8 large tortillas (corn or wheat)
1 cup grated cheddar cheese
Yield: 4 servings
Instructions
Heat the oil in a large skillet over medium heat, add the peppers, and sauté until soft, about 10 minutes. Transfer into a bowl and combine with the scallions, cumin, salt, pepper, and red pepper flakes.
Heat a second large skillet over medium heat. Add 1 tortilla, and top with 1/4 cup bell pepper mixture. Sprinkle with 1/4 cup cheese, top with a second tortilla, and cook 2 minutes each side, or until golden, pressing down with spatula. Repeat with remaining tortillas, bell pepper mixture, and cheese.
Cut into thin wedges and serve.
Nutritional Profile
Serving size: 1 quesadilla
Calories: 282
Protein: 11 g
Fiber: 5 g
Fat: 14 g
Saturated fat: 7 g
Sodium: 553 mg
Vitamin A: 1,593 IU
Vitamin D: 7 IU
Vitamin E: 2 IU
Beta-carotene: 726 μg
Lutein and zeaxanthin: 276 μg
---
Credit line: Recipe from Eat Right For Your Sight: Simple Tasty Recipes That Help Reduce the Risk of Vision Loss from Macular Degeneration, BY JENNIFER TRAINER THOMPSON AND JOHANNA M. SEDDON, MD, ScM. Copyright © 2015 American Macular Degeneration Foundation. Reprinted by permission of the publisher, The Experiment. Available wherever books are sold.