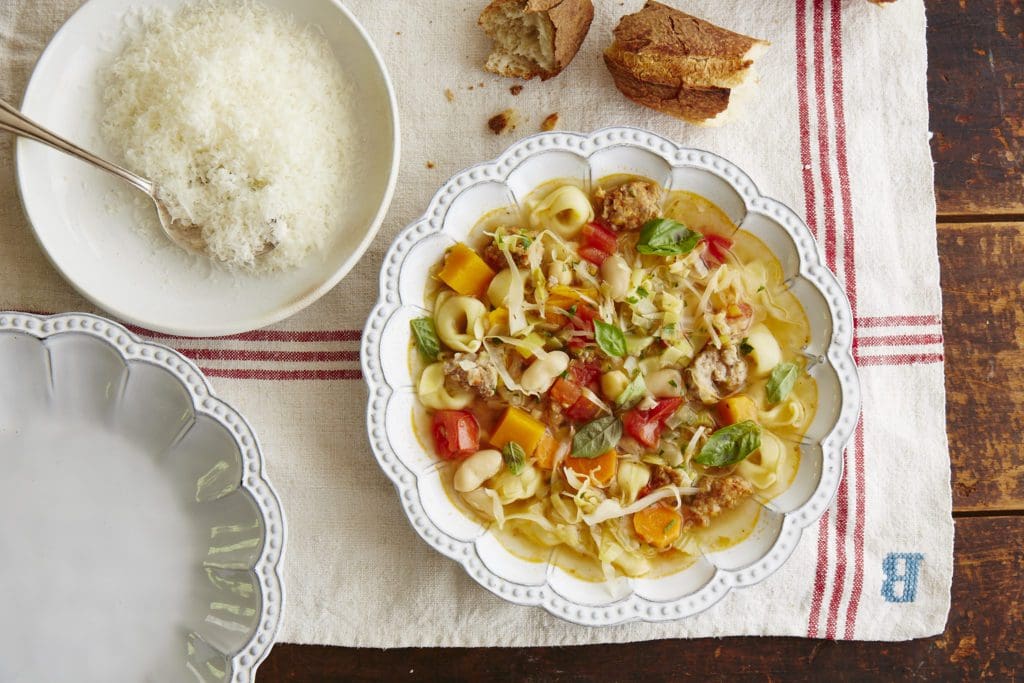 Ingredients
1 tablespoon canola oil
1/2 pound sweet sausage
1/2 pound hot sausage
3 leeks, white, light green (washed, dried, sliced)
3 cloves garlic, minced
3 carrots, peeled and sliced
2 ribs of celery with leaves, sliced
4 cups shredded cabbage (½ medium heat)
1 pound Roma tomatoes, chopped
2 cups butternut squash, diced medium
1 teaspoon dry thyme
1 teaspoon dry oregano
1 15-ounce can chickpeas, drained and rinsed
6 cups chicken broth
4 cups water
1/2 teaspoon kosher salt
1/4 teaspoon fresh ground pepper
2 cups cheese tortellini
1/4 cup fresh parsley, chopped
2 tablespoons fresh basil chiffonade
1/2 cup shaved pecorino Romano cheese for garnish
Instructions
Heat the canola oil in a large soup pot over medium heat. Add the sausage, leeks and garlic and cook 3-5 minutes. Add the carrots, celery, cabbage, tomatoes, squash, herbs, beans, broth, water, salt and pepper. Bring to a boil, then reduce heat to low and simmer for 30 minutes. Add the tortellini and cook 8 minutes (or according to package instructions). Stir in the parsley, and ladle into bowls, topped with basil chiffonade and Romano.
Nutritional Profile
(per serving, including cheese garnish)
Calories: 585
Total fat: 23 g
Saturated fat: 7 g
Protein: 32 g
Carbohydrates: 66 g
Fiber: 14 g
Sugars: 13 g
Cholesterol: 60 mg
Sodium: 2,158 mg
Vitamin A: 11,728 IU
Vitamin C: 58 mg
Vitamin E: 3.5 IU
Zinc: 3.5 mg
Beta-carotene: 5,371 mcg
Lutein and zeaxanthin: 996 mcg
Omega-3 fatty acids: 0 g
---
This recipe is from the Feast for the Eyes® collection, and originally appeared in the 2017 Feast for the Eyes® calendar.