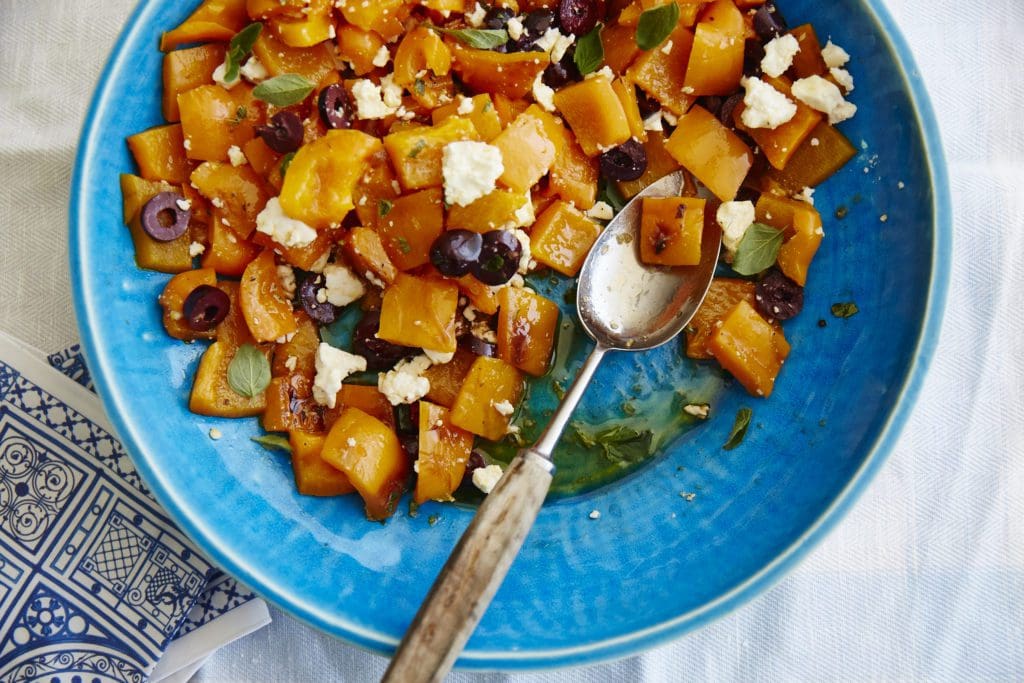 Ingredients
3 orange bell peppers
1 teaspoon plus 3 tablespoons grapeseed oil (or other oil)
1 tablespoon lemon juice
1/4 teaspoon smoked paprika
1/2 teaspoon finely minced garlic
1/4 teaspoon freshly chopped oregano
Freshly ground black pepper
1/4 cup crumbled feta cheese
1/4 cup sliced kalamata olives
Yield: 4 servings
Instructions
Preheat a grill to medium-high heat. Lightly brush the peppers with 1 teaspoon of grapeseed oil and place the peppers on the grill. Cover and cook until slightly charred 3 to 5 minutes. Turn and cook an additional 5 minutes, until charred. Set aside in a bowl covered with plastic wrap.
To prepare the vinaigrette, whisk the remaining grapeseed oil, lemon juice, paprika, garlic, oregano and black pepper. Peel, seed and core the peppers and cut them into bite-sized portions. Toss peppers, feta cheese and olives with the vinaigrette and set aside for 10 minutes (if you have the time), then serve.
Nutritional Profile
(per serving) 
Calories: 178
Total fat: 15 g
Saturated fat: 3 g
Protein: 3 g
Carbohydrates: 10 g
Fiber: 1 g
Sugars: 0 g
Cholesterol: 8 mg
Sodium: 209 mg
Vitamin A: 321 IU
Vitamin C: 258 mg
Vitamin E: 4.9 IU
Zinc: 0.51 mg
Beta-carotene: 168 mcg
Lutein and zeaxanthin: 1.8 mcg
Omega-3 fatty acids: 0 g
---
This recipe is from the Feast for the Eyes® collection, and originally appeared in the 2017 Feast for the Eyes® calendar.