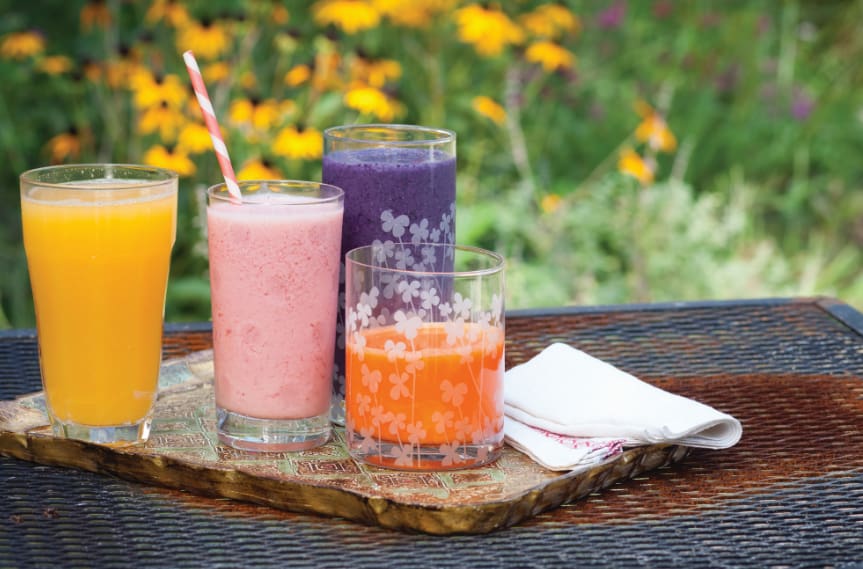 This drink sneaks in a lot of bang for the buck with a blend of the best antioxidants for macular degeneration—carotenoids from the kale, lutein from the blueberries, vitamin C from the pomegranate juice, and potassium from the bananas, plus fiber.
While the base of this smoothie is designed with antioxidants for macular degeneration in mind, you can add other favorites, or play around with different blends. The beauty of a smoothie is that it's an easy, versatile way to add nutrients to your day.
Ingredients
• 1 ripe banana
• 2 kale leaves, stems removed
• 1 cup blueberries
• 2 cups pomegranate juice
• 1 tablespoon freshly squeezed lime juice
Yield: 2 servings
Instructions
Combine all the ingredients in a blender and purée until smooth, about 45 to 60 seconds.
Chill briefly if desired. Serve immediately.
Nutritional Profile
Serving Size: 2 cups
Calories: 262
Protein: 4 g
Fiber: 5 g
Fat: 1 g
Saturated fat: less than 1 g
Sodium: 33 mg
Vitamin A: 7,808 IU
Vitamin C: 135 mg
Vitamin E: 2 IU
Zinc: 1 mg
Beta-carotene: 4,677 μg
Lutein and zeaxanthin: 19,946 μg
---
Credit line: Recipe from Eat Right For Your Sight: Simple Tasty Recipes That Help Reduce the Risk of Vision Loss from Macular Degeneration, BY JENNIFER TRAINER THOMPSON AND JOHANNA M. SEDDON, MD, ScM. Copyright © 2015 American Macular Degeneration Foundation. Reprinted by permission of the publisher, The Experiment. Available wherever books are sold.