The Amsler grid is used to check whether lines look wavy or distorted, or whether areas of the visual field are missing.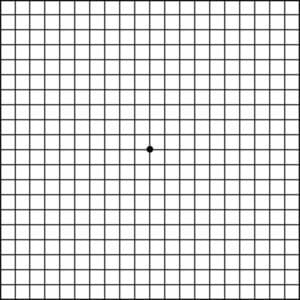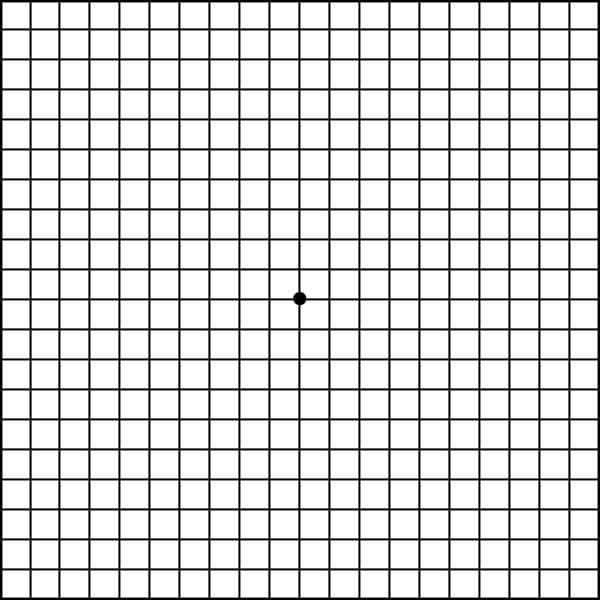 Download Amsler Chart
Tape this page at eye level where light is consistent and without glare.
Put on your reading glasses and cover one eye.
Fix your gaze on the center black dot.
Keeping your gaze fixed, try to see if any lines are distorted or missing.
Mark the defect on the chart.
TEST EACH EYE SEPARATELY.
If the distortion is new or has worsened, arrange to see your eye doctor at once.
Always keep the Amsler's Chart the same distance from your eyes each time you test.
Other Useful Resources
What is Macular Degeneration?
Macular Degeneration is the leading cause of vision loss, affecting more than 10 million Americans – more than cataracts and glaucoma combined. This entire site is dedicated to information regarding Macular Degeneration, but this page will give you a quick general overview to get you oriented.
Diagnosing Age-Related Macular Degeneration
Most of the advanced diagnostics for studying the presence or progression of macular degeneration involve making images of the fundus (the inside back of the eyeball) and the retina. The technology is constantly being updated
Food and Recipes for Good Eye Health
We're happy to share a few of our favorites from Eat Right for Your Sight™, as well as some nutritional guidelines for maintaining healthy vision.
Ten Habits for Good Eye Health
What can be done to reduce the risk of developing macular degeneration? The New England Eye Center at Tufts Medical Center recommends the following healthy habits, and your health care provider may give similar recommendations.