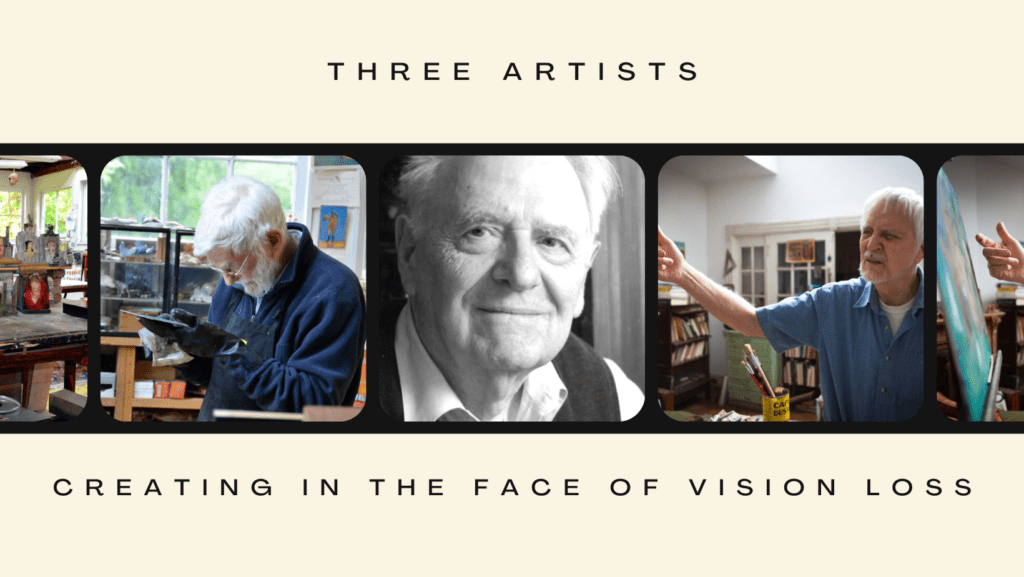 In honor of AMD Awareness Month 2023, The Vision & Art Project put together a playlist of the films they have produced on three different artists with age-related macular degeneration (AMD).
In their words, "As a whole, these artists' stories inspire a deeper respect for and understanding of the profound capacity of humans to remain creative and vital in the face of adversity and loss."
Each film focuses on the history of each artist's work, weaving in the vision loss from macular degeneration that impacts their work and how they've adapted.
Serge Hollerbach – A Russian Painter in New York
"I think partial loss of vision freed me from attention to detail." – Serge Hollerbach
In this short, award-winning documentary, the Russian emigre painter Serge Hollerbach (Nov 1, 1923 – Feb 19, 2021) creates two paintings, separated in time by a period of four years during which he has visibly aged and his vision has declined. While painting, he discusses art, his displacement during World War II, building a new life in New York City, and how vision loss has affected his ability to paint.
Lennart Anderson – Seeing With Light
In Seeing with Light, the artist Lennart Anderson (August 22, 1928 – October 15, 2015) works on a portrait of his friend and fellow artist, Kyle Staver, as he discusses his life and work. Though he struggles to see her, he is determined to continue his life-long interest in portraiture. First released on Oct. 30, 2014, it was one of our first major projects at the Vision & Art Project.
It's not until 8 minutes in that it becomes apparent Lennart is working with vision loss, as you see him position his eyes inches away from his canvas and tilt his head in order to see what he's working on. This moment is a breathtaking illustration of the artist's perseverance.
Robert Andrew Parker – A is for Artist
In A Is for Artist, the Connecticut-based artist and illustrator Robert Andrew Parker talks about the impossibility for him of a life without painting and how he 'keeps on keeping on' by embracing the inevitable changes that vision loss has brought to his work.
About the Vision & Art Project
The Vision & Art Project is an AMDF-supported project that chronicles the intersection between macular degeneration and the arts.
From the Vision & Art Project's website: "Our mission at the Vision & Art Project is to give greater visibility to the overlooked influence of vision loss from macular degeneration on historical and contemporary artists. We strive to ensure the legacy of individual artists, to educate the public about macular degeneration, vision, and art, and to inspire a deeper respect for the human capacity to adapt and change. Our hope is that the work we present provides incontrovertible evidence that, even with compromised eyesight, the visual world remains beautiful and within reach."