Debbie MacIntosh reached out to us earlier this year to ask permission to use the AMD Awareness pin design to create a hooked rug. What follows is Debbie's inspiration and process in creating the hooked rug from the AMD Awareness pin design in her own words, accompanied by photos of the process. Small edits were made for clarity. Thank you Debbie for sharing your creativity and inspiration with us and the AMD community!
I have been a rug hooker for a number of years. This is not just a craft for me, but a vehicle to explore my own creativity. It has grown from a hobby to my way of creating statements of what is important to me, and my journey in this life. I may not be perfect in the execution of the design, but I am very passionate about it.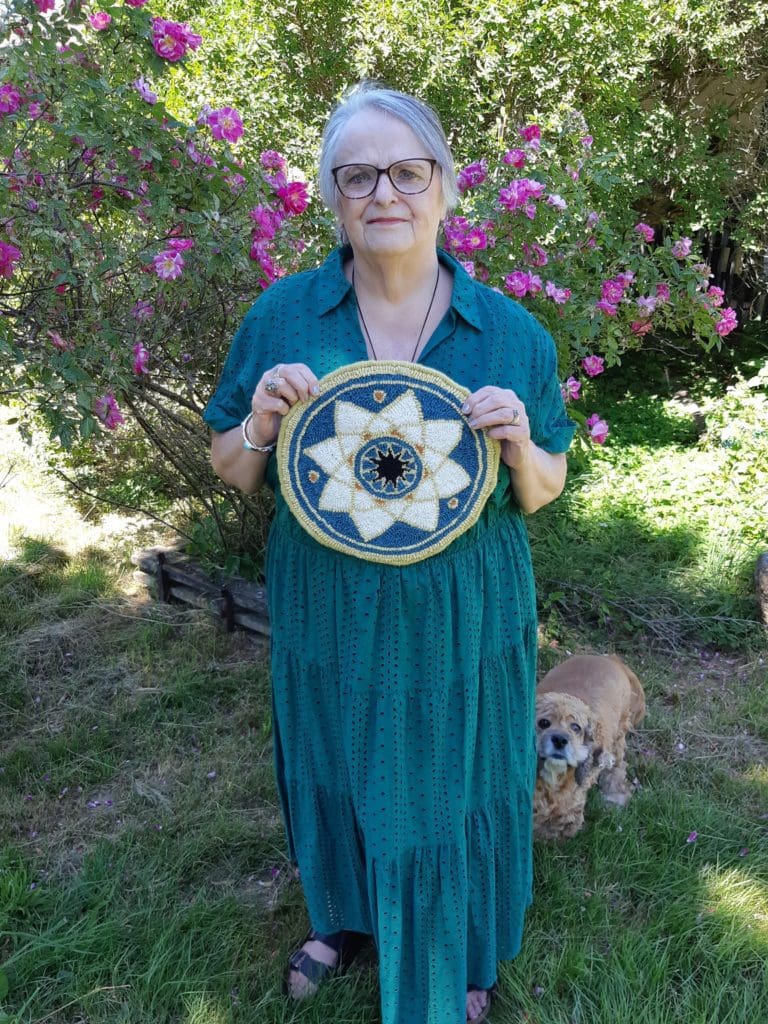 I have been following the American Macular Degeneration Foundation (AMDF) for quite a while now. I read the post of theirs that introduced the newly created AMDF pin. It was designed in an effort to raise awareness about age-related macular degeneration. The reason I follow the AMDF is because I have wet macular degeneration. I am currently undergoing treatments monthly. I have it in both eyes.
I contacted the foundation and asked if I might use the design of the pin to create a rug from the design. This was important because I want my rug hooking journey to reflect what is significant for me.
As a rug hooker, it is very important to follow the rules of copyright for obvious reasons of honesty. It gives me permission to copy the design of the pin which allows me to show my rug to fellow fabric artists. I was granted permission. to hook the design on Feb 22nd, 2022, and ordered the wool on March 24th. If I show it anywhere, credit for the design will be given to the AMDF.
We rug hookers are an artistically curious and supportive group with national and international connections.
My journey with this disease left me wondering if I would lose my sight, but perhaps, most importantly, it spurred me on to create beauty everyday. A woman I very much admire, Deanne Fitzpatrick, a noted fabric artist in Amherst, Nova Scotia, is a wonderful mentor to fabric artists. She has created her mantra, Create Beauty Everyday, to encourage and aid people in their personal development as fabric artists. She also speaks about creating what you love, and creating rugs that have meaning and beauty for oneself.
This pin fit the bill for me for several reasons: I hook with a number of people who are now retired. While rug hooking is getting wildly popular with the younger age group, many seniors are actively involved in this craft; a perfect age group to spread the word about age-related macular degeneration (AMD).
I also saw this pin as a work of beauty. Symbolism is important in creating rugs. The beauty of the abstract symbolism is perfect for the rug. Following is the description of the pin, as expressed by the AMDF:
EYES – The central shape of the design is comprised of four overlapping eye shapes. AMD is a disease that affects the eyes and vision.
THREE ORANGE DOTS – AMD is the 3rd leading cause of blindness worldwide. Risk increases with age, and is 1 in 3 by the age of 75.
BLUE IRIS – Though lifestyle and genetics play a role, people with blue eyes are at an increased risk.
STARBURST CENTER – AMD can lead to central vision loss as the disease progresses. Orange 'petals' surrounding the iris represents the marigold, a source of lutein and zeaxanthin. These nutrients have been shown to potentially reduce the risk of developing age – related macular degeneration, and for people who have AMD, to potentially slow the progress of the disease.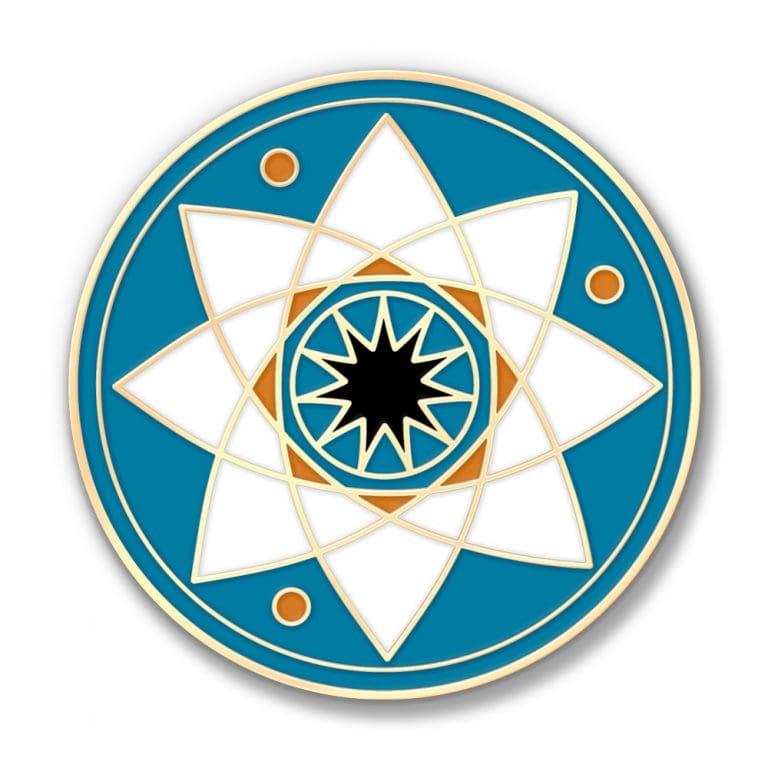 Creating the Rug
There are several steps in creating a rug. The first is really the thought process. Why do I want to create this rug? What colour scheme will I use? This was easier for me with this rug, as the colours are already established. However, wool must be dyed to match the colours.
Matching the Colors
I created the orange wool by dyeing wool from a gold blazer I had with onion skins. The black wool came from a deconstructed blazer. I made an artistic decision to use cream to outline the lines in the pattern. I consulted a wonderful fabric artist, Joan MacKenzie, who owns a local rug hooking shop in Sydney, Nova Scotia, and is an extraordinarily gifted dyer.
The blue was difficult for me to see clearly, but one thing I have gotten very comfortable with, is to ask other fabric artists to help with colour. I have NOT met one who is not gracious or helpful. Joan also helped me pick the white to use. You wouldn't believe how many whites there are in wool! After Joan and I again met to discuss the wool, on April 2nd, I decided to not use the cream for the lines that create the 4 eyes; instead I decided to use a medium gold. This stood out better as the cream and white were too similar. I did not try to find a metallic golden yarn because it is synthetic and usually does not hook well for me. All the wool used is 100% wool, either new, or repurposed.
At the Virtual Rug Hooking School, in February 2022, members of the Rug Hooking Guild of Nova Scotia (RHGNS) offered valuable advice and support in the Find it Finish It (FIFI) Class. They are a wonderful group of supportive people who were helpful and interested in this rug coming to fruition. Ann Jones was the leader of the group, and she and all the other members of the class were so helpful, and we had lots of fun. Fun is important, and after 2 years of COVID, it was great to talk with other women, if only virtually.
Reproducing the Pattern
The next step is to reproduce the pattern on the backing. It obviously needed to be enlarged, but to what size? I had originally done it as a 6 in. round but decided to go with an 11 in. round so that I could get the detail in without crowding. I blew up the design as big as I could on my printer and then went to a business store to get it enlarged to the size I wanted. Here is the blowup of the pattern.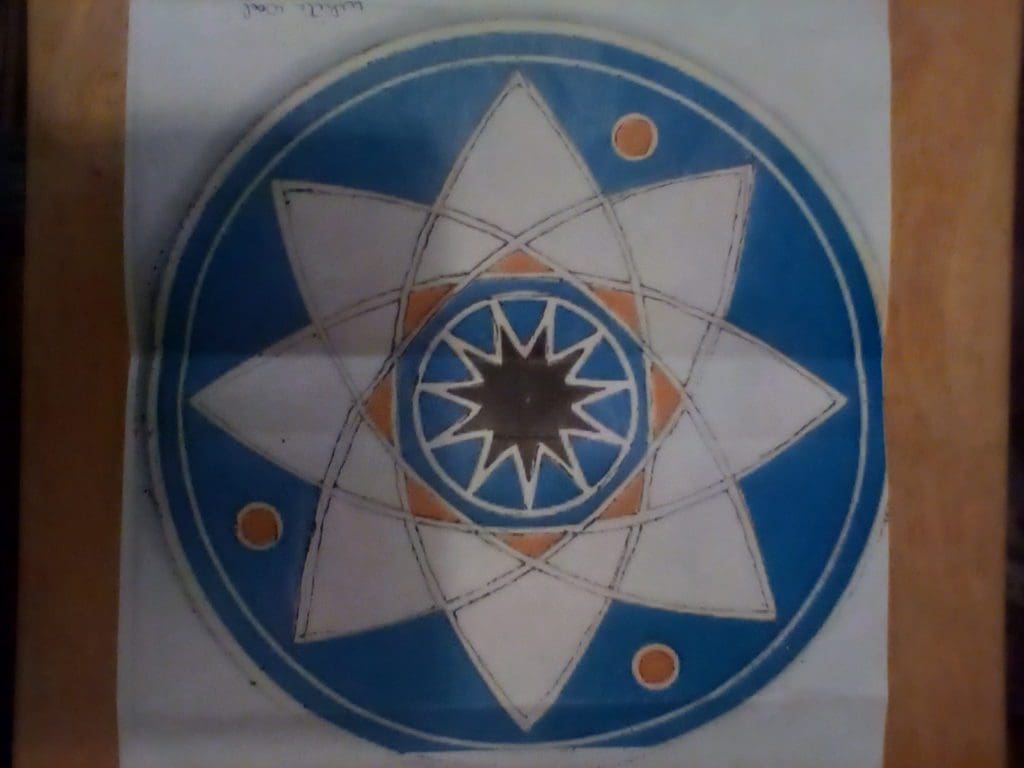 Transferring the pattern to backing is a bit of the sticky part for me. Luckily, my husband is super supportive and helped me transfer it to red dot. Red dot is a thin fabric which has dots that outline a grid that helps you keep your pattern straight. You put it over the pattern, and then trace the pattern onto the red dot with a sharpie. Then you transfer the red dot pattern to the backing, which in this case, I chose linen.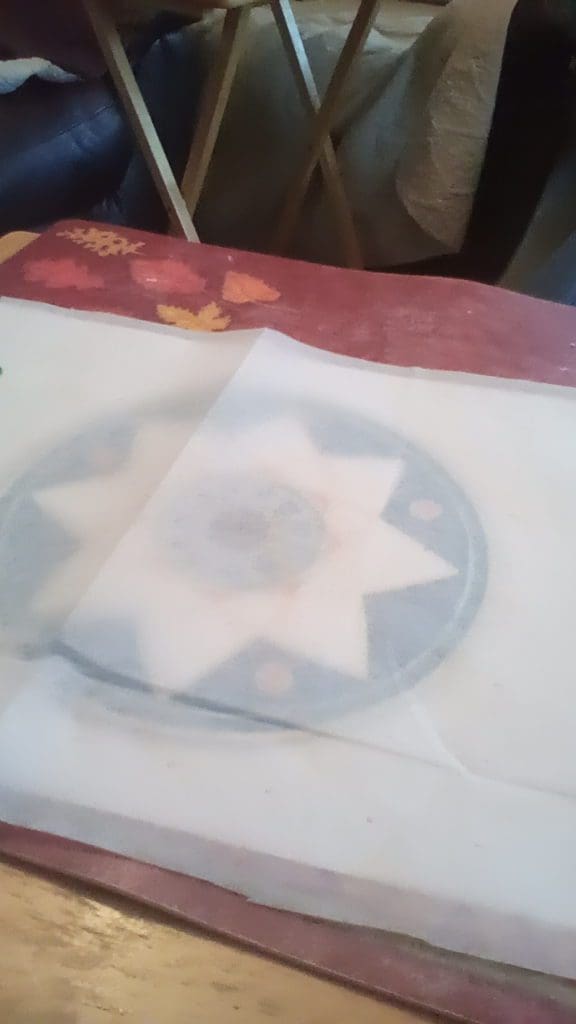 I can better manage straight lines because you can run a pencil between the ridges of the fabric and come out with a straight line. My hubby put the round pattern on the linen for me, which was very helpful to me.
Hooking the Rug
Since the pattern is now on backing, I have to cut the wool. I will be using mainly a #5 width cut in the various colours of the wool. The starburst center and smaller orange triangles, I chose to hook in a #3 cut, a smaller cut.
Now comes the super fun part, the actual hooking. I chose to start with the starburst symbol. This was the most emotional part of the rug for me, because it could reflect my future. I am thankful to the specialist who is following my progress. This is another emotion that is stirred in me, gratitude. I am just super grateful that my eyes have not deteriorated to the point I can no longer hook. If I get to this point, I will know that I have created pieces of beauty for my family and friends with much love, and enjoyment.
I hooked the starburst centre and left it at that as I lost the light. Black is a difficult colour to hook in the evening. Each day I do more. I have finished the outer blue and am now working on the small orange triangles.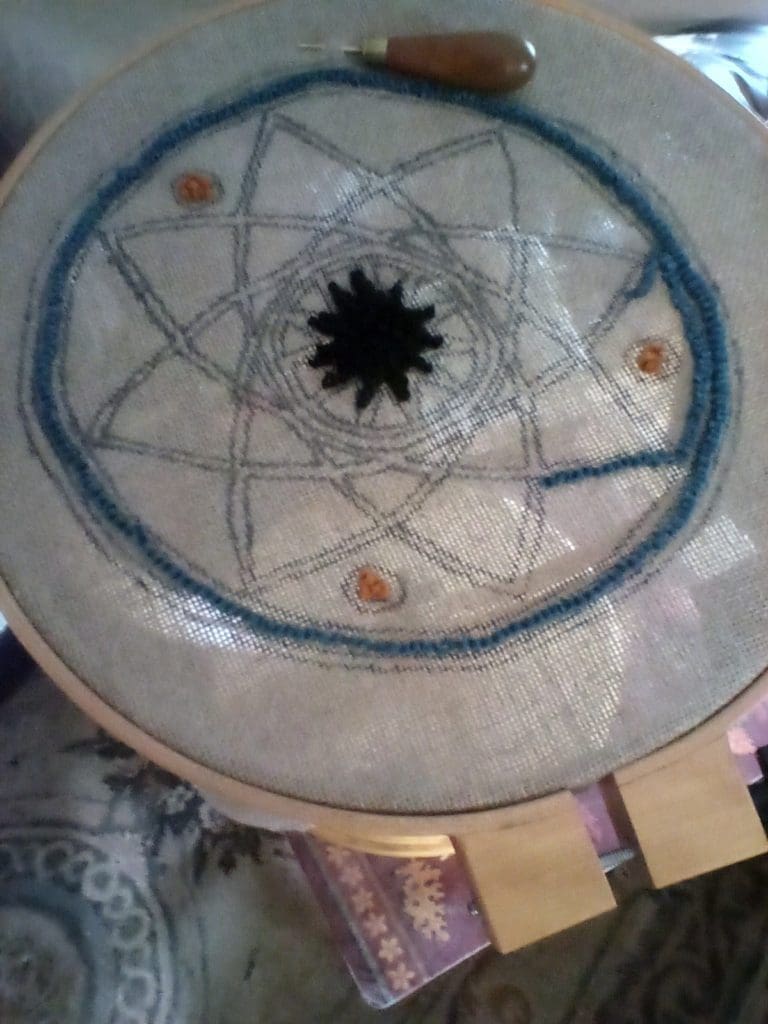 I will continue to hook the small orange triangles while I am waiting for the medium gold wool to do all the outlining.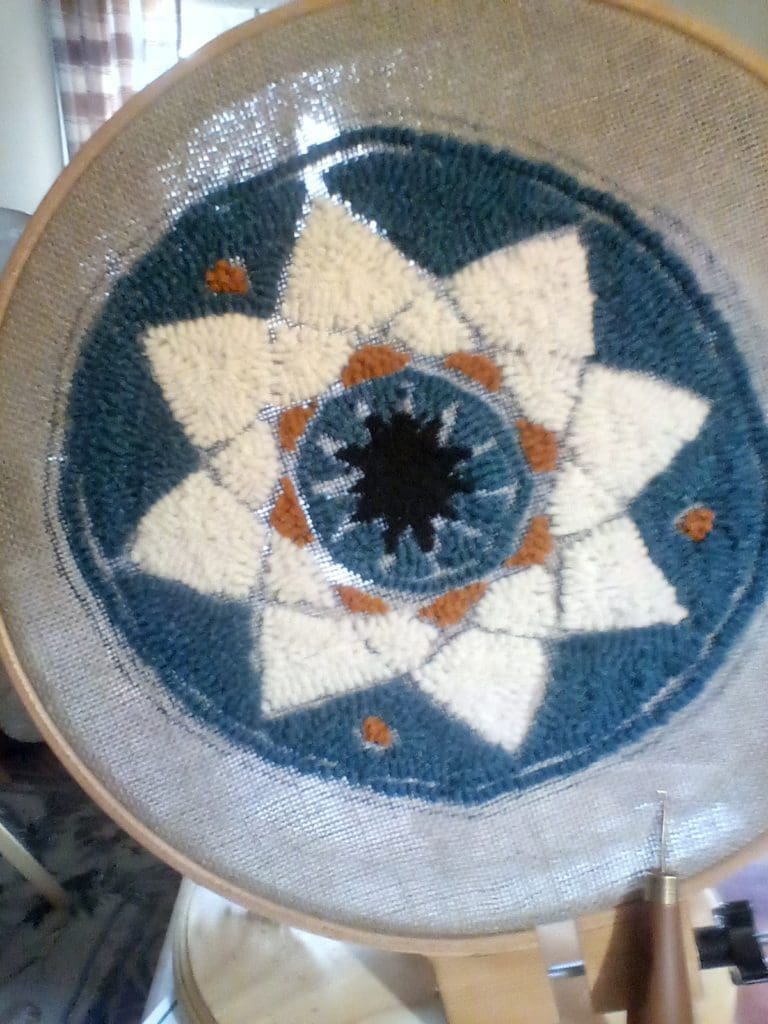 The medium gold wool was ready on April 2nd, and I am eager to start hooking in the lines. this lines will have to be slowly and carefully done. I always love a challenge and am so excited to fill in the lines. This is the extent of my hooking until April 4th.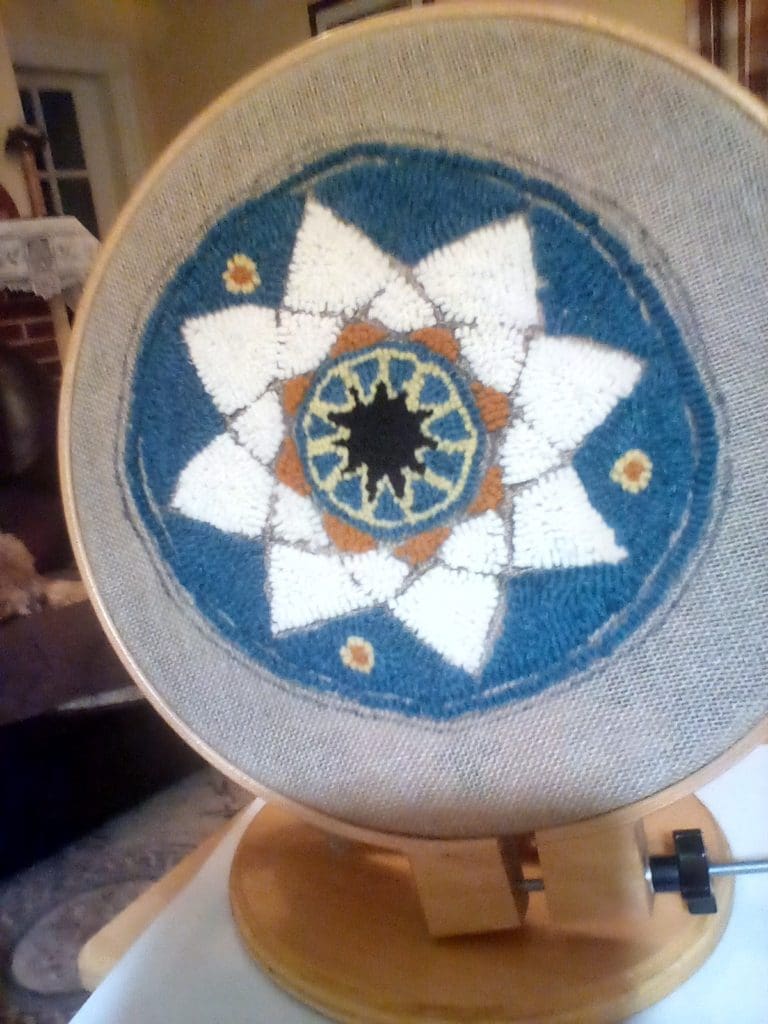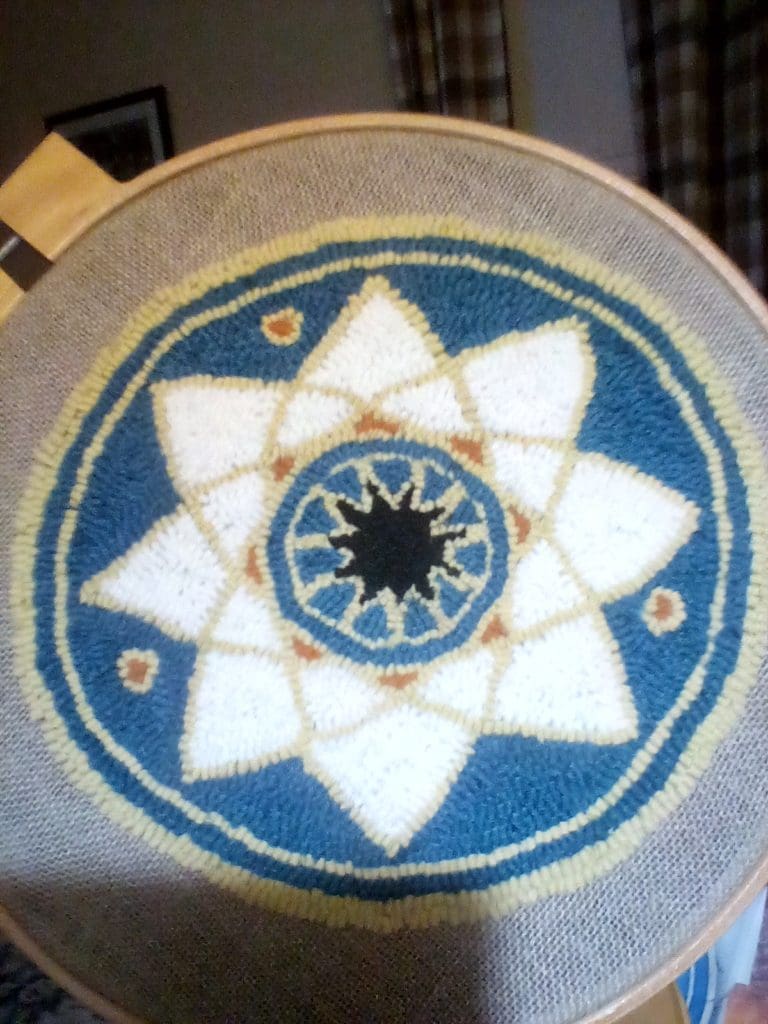 On April 6th, I pulled the last loop of the rug. This makes me happy that I have created something that at times, presented a bit of a challenge for me. Here is a picture of the rug.
It still has to be pressed, hemmed, and binding put on. I am not sure if I will whip the outer edge yet, something to sleep on.
The finished rug is special for me. Of all the rugs I have done, this one is the only rug done especially for me. It presented some real challenges for me, but I loved every moment of making it. I hope this adaptation of the AMDF pin will help in some way, to promote public awareness of age-related macular degeneration.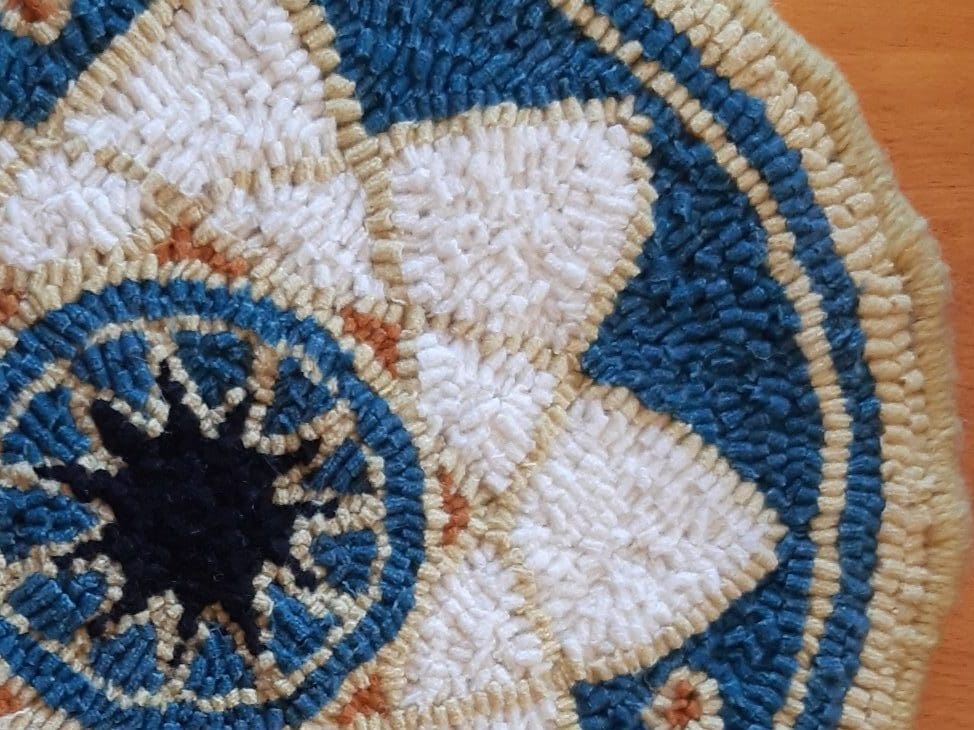 There is more to life than dealing with AMD. The possibilities are out there. I know it can be scary, but you are not alone.
Many thanks to the American Macular Degeneration Foundation. Thank you for the work you do to promote awareness of this important health issue. Also, many thanks for giving me permission to adapt the pin to a rug. I loved the abstract design immediately, and in my somewhat biased opinion, made a lovely rug.