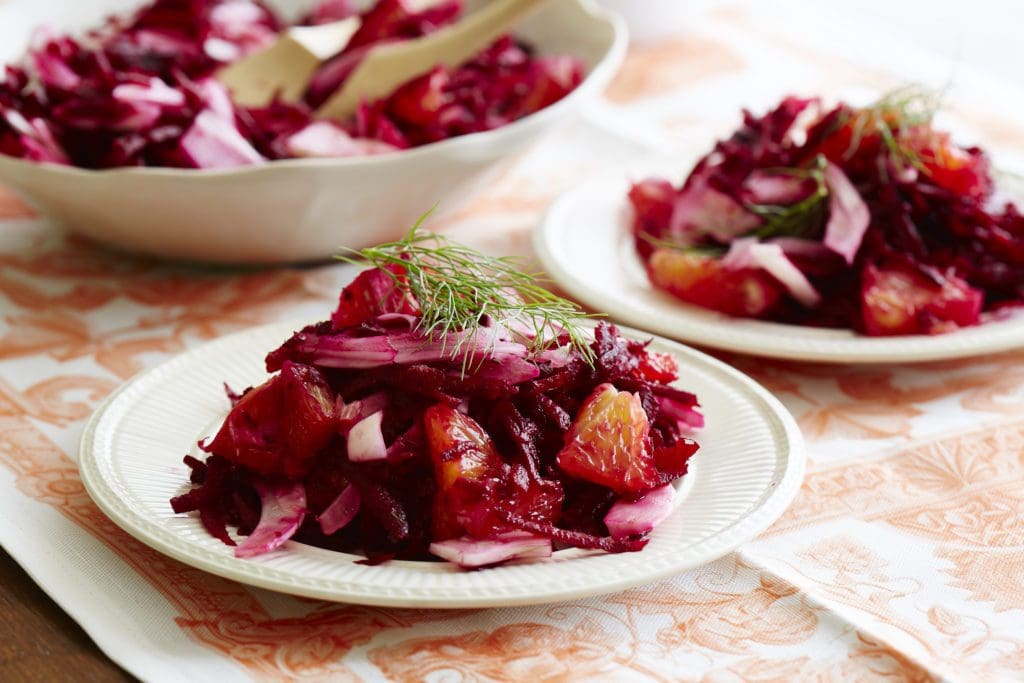 Ingredients
1 large raw beet, peeled (2 cups)
1/2 head fennel bulb
1 large orange-peeled and chopped
Dressing:
2 tablespoons balsamic vinegar
6 tablespoons extra-virgin olive oil
1/2 teaspoon sea salt
1/4 teaspoon freshly ground black pepper
Yield: 4 servings
Instructions
Combine the beet and fennel in the bowl of a food processor with the metal blade and pulse until the beet is shredded, taking care not to puree. Scrape into a bowl and toss with the orange.
Combine dressing ingredients in a tightly sealed jar and shake vigorously until they emulsify. Toss the salad with dressing and serve.
Nutritional Profile
(per serving)
Calories: 221
Total fat: 21 g
Saturated fat: 3 g
Protein: 1 g
Carbohydrates: 9 g
Fiber: 2 g
Sugars: 7 g
Cholesterol: 0 mg
Sodium: 328 mg
Vitamin A: 363 IU
Vitamin C: 22 mg
Vitamin E: 0 IU
Zinc: 0.2 mg
Beta-carotene: 196 mcg
Lutein and zeaxanthin: 220 mcg
Omega-3 fatty acids: 0 g
---
This recipe is from the Feast for the Eyes® collection, and originally appeared in the 2017 Feast for the Eyes® calendar.