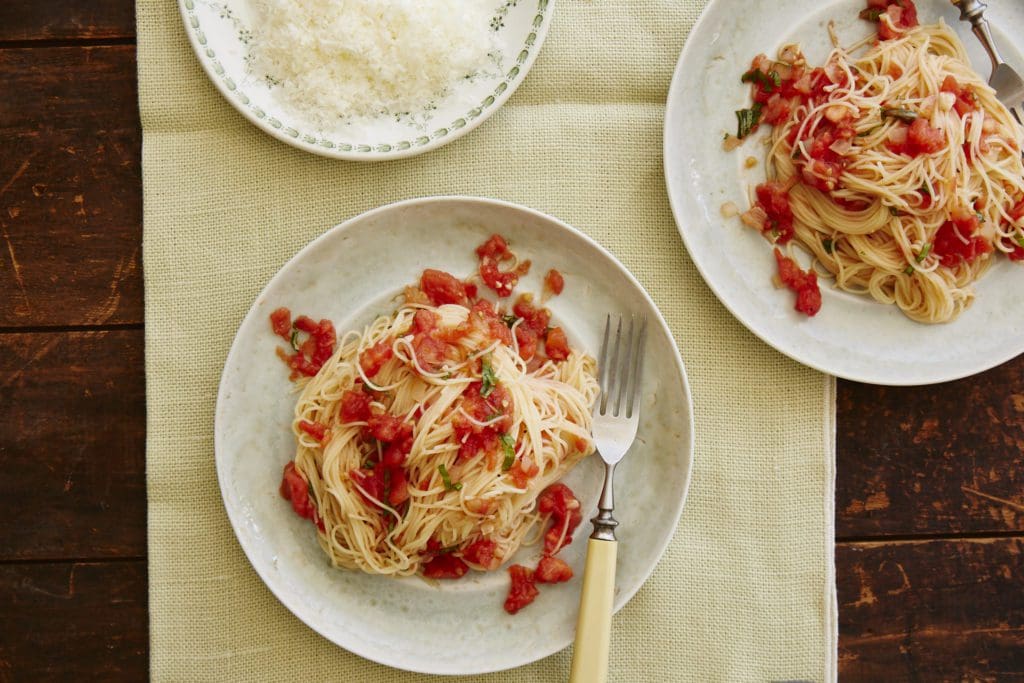 1/4 cup extra-virgin olive oil
1/4 cup yellow onion, diced small
2 teaspoons finely minced garlic
1/2 teaspoon crushed red pepper flakes
2 tablespoons chopped basil
1 teaspoon kosher salt
Grinding of fresh black pepper
2 pounds Roma tomatoes, skinned and seeded
8 ounces angel-hair pasta
1/4 cup shaved Romano cheese
Heat the olive oil in a sauté pan over medium heat. Add the onion and cook 2-3 minutes, until the onion is soft. Add the garlic and sauté 1 minute, then add the pepper flakes, basil, salt and pepper. Stir in the tomatoes and lower the heat to a simmer, cooking 5 minutes.
While the sauce is cooking, cook the pasta until it is just about done. Drain the pasta and add it to the sauce, cooking the pasta in the sauce on medium-low heat for 1 ½ minutes, or until the pasta is cooked and the sauce is thick.
Serve in bowls topped with shaved Romano cheese.
Nutritional Profile (per serving)
Serves 4
Calories: 402
Total fat: 17 g
Saturated fat: 3 g
Protein: 11 g
Carbohydrates: 51 g
Fiber: 5 g
Sugars: 8 g
Cholesterol: 5 mg
Sodium: 660 mg
Vitamin A: 2,010 IU
Vitamin C: 32 mg
Vitamin E: 1.8 IU
Zinc: 0.42 mg
Beta-carotene: 1,060 mcg
Lutein and zeaxanthin: 354 mcg
Omega-3 fatty acids: 0 g
This recipe is from the Feast for the Eyes® collection, and originally appeared in the 2017 Feast for the Eyes® calendar.