Some risk factors in AMD are not under anyone's control:
Age – the older a person is, the more likely he or she is to have Age-related Macular Degeneration.
Genetics – a family history of macular degeneration is universally believed to be a factor.
Light-colored irises (irides)
Far-sightedness
High levels of C-reactive protein (CRP) – a marker of inflammation in the body.
Being female – Females are more susceptible to AMD than males are, not because they are more genetically prone to develop AMD, but because they live longer.
While the causes of age-related macular degeneration are complex, several of the risk factors are controllable:
How to reduce your risk of Macular Degeneration
Recommended Supplements for Age-related Macular Degeneration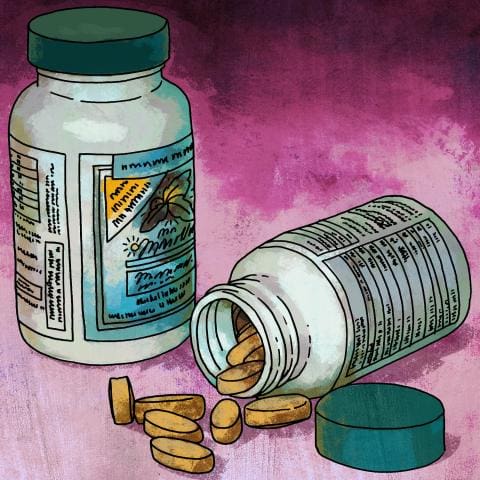 The current recommended supplements for Age-related Macular Degeneration include a combination of antioxidants, carotenoids, and omega-3 fatty acids. The formula below, offered at Tufts Medical Center in Boston, is a typical one. It is recommended for people with signs of Age-related Macular Degeneration, or a family history of the disease, especially for people who are not eating enough greens and fish.
Lutein, 6-10 mg
Vitamin C, 500 mg
Vitamin E, 200 – 400 IU
Vitamin D3, 1000 – 2000 IU
Zeaxanthin, 2 mg
May also include Zinc, 20 – 80 mg
Omega-3 fatty acids, 1000 mg (fish oil) if not eating fish
Beta-carotene is not recommended as a supplement as it can be found in foods. The beta-carotene in the AREDS 1 formula is not recommended for smokers.
Related Resources:
Ten Habits for Eye Health and AMD Treatment
The New England Eye Center at Tufts Medical Center recommends these healthy habits, and your health care provider may give similar recommendations.

Food and Recipes Good for Macular Degeneration
We're happy to share a few of our favorites from Eat Right for Your Sight™, as well as some nutritional guidelines for maintaining healthy vision.

Important Nutrients
Nutrients to help prevent Macular Degeneration.

Cooking Show
The "Eat Right for Your Sight" four part cooking series includes science-based AMD diet recipes for reducing the risk of macular degeneration progression, along with tips on safe cooking practices.