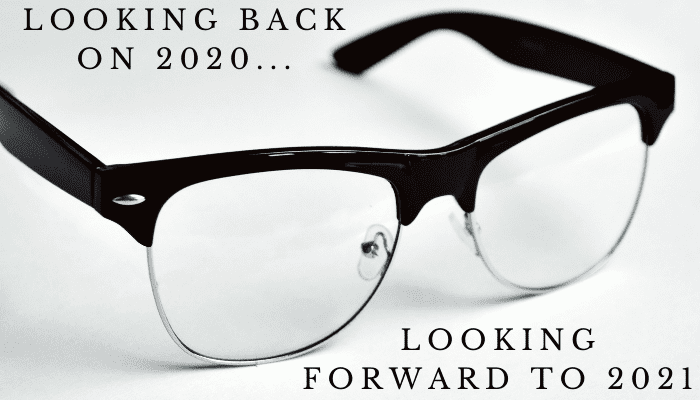 2020. What a challenging year!
Here at AMDF, our tight-knit team switched from regular, in-person meetings to a year of working remotely and, yes, using Zoom! Perhaps you have also discovered this, but, somehow, that break from our usual routines inspired us to think outside the box.
Here are the highlights of 2020:
COVID-19 Response
Aside from having to change our internal work routines, we immediately thought about how COVID might be affecting the community and how we could help.
As information about Covid-19 transmission through close contact with others became available, we wondered: Would AMD patients, and especially those receiving anti-VEGF injections for wet AMD, have concerns about getting to a clinic, or about being in the clinic for a treatment? If they did have concerns, what should they know?
To find the answers, we connected with the American Society of Retina Specialists and developed a survey that would also help doctors understand patients' perspectives. Then we sent it to our substantial email list, and received more than 1,500 responses almost immediately!
We reported those mostly positive findings in our summer print newsletter: 97% of those who'd had an appointment either went or rescheduled; 93% felt safe getting there; and 95% felt safe during interactions with doctors and staff. Finally, we incorporated them in a report, "Coronavirus and Your Macular Degeneration Care," which we developed based on guidelines issued by the American Academy of Ophthalmology.
New Collaborations
With a strong sense of "we are all in this together" sweeping much of the nation, we also strengthened our connections with other mission-aligned organizations, and found some highly collaborative partners.
Among them…
We joined with Research to Prevent Blindness (RPB, with whom we also are co-funding research grants) and a number of other eye-science- supporting foundations to launch scEYEnce, a national messaging campaign created to focus attention on the astounding treatments emerging from vision scientists and the need to fund more at the federal level. AMDF supports five of the eleven researchers listed as AMD scientists.
We joined the Low Vision Working Group of the ITEM Coalition (Independence Through Enhancement of Medicare and Medicaid) to develop an advocacy plan for Medicare reimbursement for low vision assistive devices. Our letter to the Centers for Medicare and Medicaid Services is set to be delivered in early January of 2021.
And we connected with four other AMD nonprofits to pool our best resources for an AMD community, online bulletin board launching in early 2021.
Continued Commitment to Advocacy
Even though we could not make our usual trips to Washington, D.C. to bring the voices of the AMD community into meetings with legislators, we still connected them by using Zoom (what else?) to capture and deliver an empowering, Congressional Briefing message from Sensei Jack Stewart. Sensei Stewart is a Marine veteran who lost his sight to macular lesions in his 20s – as well as a sculptor, retired respiratory technician, master teacher (or sensei) of Zen archery and Japanese sword fighting, and Secretary and Treasurer of the Blind Veterans Association of Vermont.
Keeping the Research Wheels Turning
As the world's focus turned to Covid, we kept our commitment to AMD research (with your help).
Throughout the pandemic, we have maintained a strong connection with new trends in AMD research, funding more than a half million dollars in grants, with some going to extensions of currently-supported scientists and some to new grantees.
From all of our funded researchers, we heard that they've had to adapt to Covid protocols in the lab, which rearranged their timelines to an extent, but did not derail them from advancing their work.
Some of the discoveries emerging from their investigations will be incorporated in an online educational program for patients and caregivers, due in February, that AMDF developed with support from a grant from Novartis. And all of their progress will soon be available on an upgraded AMDF web site, which we have quietly been building this year.
Coming in 2021
So much of our work in 2020 will be coming to fruition in 2021 and we're pretty excited about these upcoming offerings!
Starting in early 2021, you will be able to access a more in-depth conversation with Sensei Stewart (who will teach you how to destress with a sigh) and his message to "improvise, adapt and overcome," when AMDF launches new AMD – Mind, Body, Spirit video programming on our YouTube channel.
The shows are being created to address unmet needs of living with macular degeneration which, as it threatens sight, can impact our whole being.
In addition to Sensei Stewart, our pilot episodes include connecting you with a yoga instructor who is legally blind due to wet AMD yet teaches yoga to people with vision loss. You will also meet a deeply caring couple, one of whom has sight and one of whom does not, as they lead us through the subtleties and complexities of how vision loss impacts how we see ourselves, and how those perceptions impact our relationships.
We will also be launching a cooking series designed for optimum health and safety for people with vision loss and AMD.
So Much More
The above are just some of the highlights of 2020 and upcoming iniitatives in 2021. But there's so much more, including announcements about important research developments, an upcoming PBS interstitial programming piece to raise awareness, a remake of our Hope and Cope DVD, initiatives to connect the voice of the AMD community to the medical community, Arts and Culture projects, upgrades to our website, and a relaunch of the free KeepSight journal.
Of course, our tireless team will continue our day-to-day work of connecting AMD patients to resources and materials and answering questions. So, please be in touch.
ALL of this is made possible by the generous and ongoing support of those of you in the AMD community.
Will you add your support? Before the year ends, you can become a supporting monthly member, or make a one-time donation today by clicking below.